| | | |
| --- | --- | --- |
| We have a truly astonishing amount of prizes in our Handmade Holidays series this year! This list today, in fact, only includes prizes for the first week. Yep, we know. Amazing! Visit and comment each day the first week in November for a chance to win one of these prizes, and be sure to add favorites to your holiday wish list. | | |
We want to thank all of the publishers who generously contributed Handmade Holidays prizes this year: STC Craft, Martingale & Company, Wiley, Shambhala Publications, Potter Craft, C&T Publishing, Storey Publishing, F+W Media, Interweave, Lark Crafts and Stash Books.
We'd also like to thank the many shops and artists giving away gift certificates and beautiful, handcrafted items throughout the month: Jennifer Ladd, Candied Fabrics, Peanut Envy, tortagialla, Slightly Biased, That Clever Clementine, KSC Designs, Mister & Mouse, The Silver Diva, Green Bag Lady, QuiltedCupcake, Tenderfeet Stitches, Mrs. Crafty Pants Designs, Dolls And Daydreams, Deux Petites Souris and Gramma's Linen Closet.
Sewing Basics: All You Need to Know About Machine and Hand Sewing
Author: Sandra Bardwell
Publisher: Abrams Books, STC Craft
Sewing Basics is the ultimate encyclopedia for sewing at home. This thorough guide covers everything from choosing fabrics to operating a sewing machine to hand sewing, fitting, fine-finishing, trouble-shooting, and more. Whether the sewer is trying to decipher the symbols on a printed pattern, line a pocket, work French seams, or fit a muslin, she'll find what she's looking for here, all precisely explained and illustrated with hundreds of step-by-step photos. Both for beginners learning how to hem and for more experienced sewers who need help mastering advanced techniques, Sewing Basics is an invaluable reference tool sewers will want to keep within easy reach for many years to come.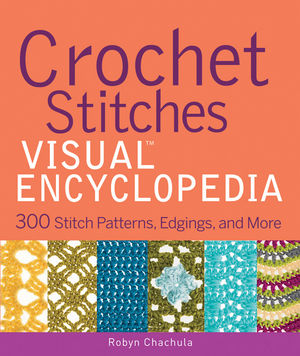 Crochet Stitches VISUAL Encyclopedia
Author: Robyn Chachula
Publisher: Wiley
This visual encyclopedia features step-by-step instructions for 300 gorgeous crochet stitch patterns, from basic stitches to cables, lace, textured stitches, mesh and filet crochet, fans and shells, clusters, puffs, bobbles, spike stitches, colorwork, and more. Each pattern is accompanied by a full-color photo and a chart. Every crocheter needs a book like this on her shelf— The content is timeless and will have a place next to the crochet hooks for many years to come.
Crochet Stitches VISUAL Encyclopedia gives crocheters quick visual access to a comprehensive collection of stitch combinations that enables them to create their own designs or modify existing patterns with ease.
The Rhythm of Family: Discovering a Sense of Wonder through the Seasons
Author: Amanda Blake Soule
Publisher: Shambahla Publications
Many of us with busy families yearn for a slower and simpler life with our kids— One that is connected to the seasons and the natural rhythm of the year, one that has our children spending more time out of doors rather than in, one that balances out some of the busyness of our lives— the computers, the televisions, the cell phones— with a deeper connection to the Earth and an appreciation for and understanding of the natural world. The Rhythm of Family is a guide to living such a life for any family.
Following the course of a year through the passing of the seasons, this book explores the ways we can create deep family connections and meaningful memories through living in tune with the cycles of nature. From stomping around in mud boots in the spring to gathering around the wood stove in winter, our activities naturally change from season to season— From the rhythms of the seasons comes the rhythms in our homes, our hearts, our families, and our every day.
Growing Up Sew Liberated: Making Handmade Clothes and Projects for Your Creative Child
Author: Meg McElwee
Publisher: Interweave Press
Bring joy, creativity & learning to your sewing with fabulous kid-friendly projects.
Meg McElwee puts her signature sewing style into gorgeous children's clothes and creative activity-focused designs. From simple clothing to toys, Growing Up Sew Liberated is packed with innovative, playful sewing patterns. Follow the structure of a child's day with 20 projects.
Sew the Perfect Gift: 25 Handmade Projects from Top Designers
Publisher: Martingale & Co.
Quilters and sewists alike will enjoy this fabulous– and amazingly varied– collection of stitched and quilted projects. Brimming with design talent, the book features work by Kim Brackett, Linda Lum DeBono, Kim Diehl, Cynthia Tomaszewski, and many more.
* Stitch striking table runners, pillows, and quilts, plus stylish bags, practical totes, funky bracelets, a pincushion, upcycled projects including a cup cozy and scarf, and many other unique accessories.
* Sew, quilt, appliqué, and embroider gifts for the holidays and other special occasions.
* Choose from eye-catching designs that range from traditional to modern.
Natural Patchwork: 26 Stylish Projects Inspired by Flowers, Fabric & Home
Author: Suzuko Koseki
Publisher: Roost Books
Whether you are at home or out enjoying a walk on a wooded path, you can add a touch of color and comfort to your daily routines with one or more of the twenty-six projects featured here. By using the patchwork placemats to enliven your dining experience or by taking the hexagon patchwork bag on a picnic in a meadow, you never have to stray too far from the comfort of patchwork. The simple and traditional patchwork styles used in this book are paired with retro fabrics and contemporary designs to create everyday items.

Made to Play!: Handmade Toys and Crafts for Growing Imaginations
Author: Joel Henriques
Publisher: Shambahla Publications
Delight young children and encourage play through unique handmade toys. From sewn and stuffed musical instruments to interlocking paper building blocks and wooden animal figurines, the projects in this book are meant to encourage open-ended play. Organized by kid-loving subjects, the toys here follow the themes of Zoo; House; Blocks, Cars & Trucks; Dress-Up; Music; and Art. Overall, the projects here are meant to stimulate imagination, build confidence through success and enjoyment, and enhance the bond between family and friends through the creation of unique, artistic handmade toys and crafts.
Martha Stewart's Handmade Holiday Crafts: 225 Inspired Projects for Year-Round Celebrations (US Winners Only)

Authors: Editors of Martha Stewart Living
Publisher: Potter Craft
Join Martha Stewart for a celebration of handcrafted holidays all year-round!
Let Martha inspire your creativity with the most beautiful crafts. The 225 handmade projects include cards and greetings, decorations, gifts and gift wrapping, tabletop accents, party favors, and kids' crafts, as well as more holiday-specific activities, such as egg-dyeing, pumpkin carving, and tree trimming. Each idea is sure to make the holidays more festive and memorable.
Modern Log Cabin Quilting: 25 Simple Quilts and Patchwork Projects (US Winners Only)

Author: Susan Beal
Publisher: Potter Craft
If you think quilting is too difficult or too complicated, you're not alone. Cutting hundreds of pieces and joining angled seams can be tough work! But log cabin quilting, an artful and simple way to piece strips of fabric around a central square, is different. From the intuitive construction through the straight-line stitching, this style of quilting is simple as can be.
In Modern Log Cabin Quilting, Susan Beal outlines the entire process from start to finish, including basic quilting how-to as well as extensive design, fabric, and embellishment information. Since all log cabin designs follow the same formula, once you master straight lines and right angles, any of the 25 projects in this book are possible. From stash-friendly designs like the Charming Camera Case to more ambitious undertakings like the Vintage Linens Quilt, there's sure to be a project that will get you into (or bring you back to) quilting!
Deploy That Fabric: 23 Sewing Projects Use Military Uniforms in Everyday Life
Author: Jen Eskridge
Publisher: C&T Publishing
Show your pride in our troops every day! All members of the Armed Forces have to buy multiple uniforms, some of which become decommissioned. Learn how to recycle these uniforms and blend in some cheerful, contemporary fabrics to create useful family treasures with one-of-a-kind style. Even if you don't have a service member in your life, you can make these cool projects using camouflage fabrics or uniforms purchased from surplus stores.
Scrap-Basket Surprises: 18 Quilts from 2 1/2″ Strips
Author: Kim Brackett
Publisher: Martingale & Co.
Get scrap happy with 18 projects designed for 2 1/2″ strips! You can cut strips from your stash or use convenient precut Jelly Rolls. The projects feature easy triangle-free piecing in a variety of fabrics, from batiks and reproduction prints to florals and folk-art designs.
* Contains projects for quilters of all skill levels, including beginners.
* Inspires creativity with a wide variety of designs.
* Covers all the basics, from choosing fabrics to sorting strips to cutting and piecing.
The Burdastyle Sewing Handbook (US Winners Only)

Author: Nora Abousteit, Alison Kelly, BurdaStyle
Publisher: Potter Craft
The BurdaStyle Sewing Handbook is the most comprehensive, hip and creative guide to learning to sew clothes with style. With more than 430,000 members around the world, BurdaStyle is the largest online community of sewing enthusiasts, fashion designers and DIYers. In their first book, BurdaStyle celebrates this vibrant, global community as they teach readers everything they need to know to design and sew an entire wardrobe of fashion-forward looks using the five fully customizable sewing patterns enclosed with the book. Filled with gorgeous photography, step-by-step instruction and contributions by 78 designers from 22 countries, The BurdaStyle Sewing Handbook will be the go-to guide for every fashion sewer.
Craft Activism (US Winners Only)

Author: Joan Tapper & Gale Zucker
Publisher: Potter Craft
Join the Handmade Movement! We make to give. We make to share. We make to connect with others. Crafters all over the world are using their hands and hearts to make a statement, change the world, and build community.
Craft Activism is an inspiring celebration of this growing movement. Inside, dozens of superstars of this grassroots phenomenon share their experiences, tips, and advice on living, teaching, and promoting a more meaningful DIY lifestyle. Learn to craft for your cause, connect with other crafters, think green, organize a fair, host an online exchange, create yarn graffiti, and more.
Doodle Stitching: The Motif Collection: 400+ Easy Embroidery Designs [With CD-ROM]
Author: Aimee Ray
Publisher: Lark Crafts
This follow-up to the best-selling Doodle Stitching offers fans expanded and updated basics, 400+ easy embroidery motifs on the page and on a CD sealed in the back of the book, 17 projects, and lots of added inspiration. More than a dozen categories include Alphabet, Asian Chic, Baby, Celebrations, Embellishments, Fruits & Veggies, Space, Trees, Flowers, Winged Wonders, and Woodland Creatures, and each section includes one motif stitched by the author.
Doodle-Stitching: Fresh & Fun Embroidery for Beginners
Author: Aimee Ray
Publisher: Lark Crafts
Asian-inspired lampshades embellished with flying fish. Canvas sneakers decorated with pink and white swirls. A pretty pillow adorned with a sleeping bunny, sweetly curled up. All it takes to create these appealing projects– Or add charming embroidered touches in no time at all– are a few simple stitches, some easy techniques, and the nearly 30 projects in this book. Begin by learning several styles for outlining, filling, decorating, and applique. Find out about floss, fancy threads, fabrics, and needles. Get the scoop on hoops, and the lowdown on transferring your very own designs onto every type of fabric.
Sew Up a Home Makeover: 50 Simple Sewing Projects to Transform Your Space
Author: Lexie Barnes
Publisher: Storey Books
Want to bring a new look to a tired room without spending a fortune? Designer Lexie Barnes shows you how to personalize your living space in just a few hours, with 50 fresh, fun, pattern-free sewing projects. Transform a living room with a custom-designed slipcover and coordinated pillows. Redecorate a bedroom in a weekend by sewing up a headboard cover, a lampshade, and matching window treatments. Learn how easy and inexpensive it can be to change the look of a child's room as she grows from a baby to a kid to a teenager. With dramatic before-and-after examples, beautifully styled photography, and a fun "you-can-do-it" attitude, Sew Up a Home Makeover is a creative resource that you'll return to every time you're ready for a new look.
'Tis the Season Quilts and Other Comforts
Authors: Shelley Wicks, Jeanne Large
Publisher: Martingale & Co.
Decorate your home throughout the snowy season with 10 folk-art quilts and accessories! Choose from lap quilts, wall quilts, pillows, and table runners, all featuring favorite wintertime motifs. With easy projects and step-by-step instructions, and a little fun with giant rickrack, you'll be finished before the first holiday party!
* Projects feature fusible appliqué and easy wool appliqué stitched by hand or machine.
* Themes include stockings, stars, trees, holly, and even reindeer.
* Decorating tips throughout the book offer fresh ideas for your home.
Sewing in a Straight Line: Quick and Crafty Projects You Can Make by Simply Sewing Straight (US Winners Only)

Author: Brett Bara
Publisher: Potter Craft
Create an entire world of sophisticated projects using one simple skill. Absolutely anyone can sew in a straight line. And with this one skill and some basic guidance, television host and crafty expert Brett Bara demonstrates how you can make custom home decor, stylish fashions, and one-of-a-kind gifts.
Sewing in a Straight Line is a step-by-step guide to creating 28 deceptively simple projects that look like they came from a chic boutique- far more impressive than you would expect for such little effort! These easy-to-make items offer quick gratification that even the busiest among us will appreciate. From a flirty two-hour miniskirt to the cutest plush toys, many of the projects take only a spare afternoon.
PUSH Stitchery: 30 Artists Explore the Boundaries of Stitched Art
Author: Jamie Chalmers
Publisher: Lark Books
Announcing PUSH, a new series devoted to indie-crafters and artists pushing the boundaries of traditional crafting mediums!
Curated by Jamie Chalmers–a.k.a. Mr. X Stitch, a leading figure in the "new embroidery movement"– PUSH Stitchery profiles the cutting-edge creative work of 30 top stitching artists from around the world. Each designer is showcased with six to eight pages of gallery-style imagery. A fascinating question-and-answer section, along with bios, make this innovative and inspirational book a must-have for anyone interested in blurring the lines between craft and art.
PUSH Paper: 30 Artists Explore the Boundaries of Paper Art
Author: Jamie Zollers
Publisher: Lark Books
Innovative, interesting, exciting: the work gathered in PUSH Paper, part of a stunningly designed new gallery series, is some of the best paper art being created today. Thirty contemporary paper artists, from world-renowned names to talented up-and-comers, all put their own spin on cutting, sculpture, installations, pop ups, paper toys, and more.
A vibrant question-and-answer section with the book's distinguished juror, Jaime Zollars, and a biography of each showcased artist complete this visual feast of paper craft.
Farm Anatomy: The Curious Parts and Pieces of Country Life
Author: Julia Rothman
Publisher: Storey Publishing
What's the difference between a weanling and a yearling, or a farrow and a barrow? Country and city mice alike will delight in Julia Rothman's charming illustrated guide to the curious parts and pieces of rural living.
Dissecting everything from tractors and pigs to fences, hay bales, crop rotation patterns, and farm tools, Rothman gives a richly entertaining tour of the quirky details of country life. From the shapes of squash varieties to the parts of a goat; from how a barn is constructed to what makes up a beehive, every corner of the barnyard is uncovered.
A perfect gift for gardeners, locavores, homesteaders, and country-living enthusiasts alike.
Word Play Quilts: Easy Techniques from the UnRuly Quilter
Author: Tonya Ricucci
Publisher: Martingale & Co.
Want your next quilt to send a special message? Now you can spell it out with no tracing, no templates, no paper-piecing, no appliqué, and no precise measuring! Inspired by renowned quiltmaker Gwen Marston (who wrote the foreword), Tonya presents a terrific technique for free-pieced letters. It's your chance to break rules, mismatch, go wonky, and enjoy yourself!
* Boost your ability to piece without a pattern; this easy technique is very forgiving.
* Discover fabulous, whimsical ways to give letters and words a featured role in your quilts.
* Find three practice projects and loads of quilt samples to instruct and inspire.
Countdown Calendars: 24 Stitched Projects to Celebrate Any Date
Author: C&T Publishing's Design Collective
Publisher: C&T Publishing
Count down creatively – any season, any reason!
* 24 projects to anticipate and celebrate your favorite special events.
* Make one for Christmas, Chanukah, the first day of school, a new baby, and many more occasions.
* Learn innovative sewing and embellishing techniques using Lutradur, felt, and ribbon.
* Includes a few no-sew projects that you can make in just a couple hours.
The Knitter's Life List: To Do, To Know, To Explore, To Make
Author: Gwen Steege
Publisher: Storey Books
Knit a traditional gansey sweater with indigo yarn. Tour a spinning mill. Discover five ways to cast on for socks. Use steeking to make a tube into a cardigan. The Knitter's Life List is a richly illustrated compilation of more than 1000 experiences and adventures that knitters won't want to miss. You'll find unusual yarns to work with, classic techniques to master, time-honored patterns to try, innovative designers to know about, museums around the world to see, books to read, festivals and retreats to visit, and much more. Check off each item as you complete it, and move on to the next; you'll find more than enough knitting adventures to fill a lifetime!
3-Fabric Quilts: Quick Techniques for Simple Projects (US Winners Only)
Author: Leni Levenson Wiener
Publisher: Krause Publications
Selecting fabrics and making great quilts has never been easier! In 3-Fabric Quilts, Leni Levenson Wiener gives you the tools to make twelve fantastic quilts that each require only three fabrics. With each quilt composed of geometric squares, rectangles and strips, cutting and piecing has never been so fast and simple.
Inside you'll find:
* Advice on choosing the three fabrics, including tips on understanding color, value and print scale, making fabric shopping easier than ever.
* Illustrated instructions for twelve 3-fabric quilts, each with yardage requirements and instructions for a small and large size.
* A unique quilting template for each project, specifically designed for the quilt.
* Basic rotary cutting, piecing and finishing instructions.
* Fun, fresh, contemporary fabrics, layouts and patterns, perfect for gifts or to decorate your own home!
Everyday Handmade: 22 Practical Projects for the Modern Sewist
Author: Cassie Barden
Publisher: That Patchwork Place
Cassie Barden, author of the best-selling The New Handmade, and talented designer Adrienne Smitke, present an exciting new array of designs for the modern sewist. Discover creative, stylish, and above all, practical projects by young designers who really know how to sew.
* Find 22 enticing ideas for bags and accessories, items for travel, and home decor; a terrific value.
* Learn a variety of ways to personalize and embellish.
* Follow clear, step-by-step instructions to create beautiful projects you'll appreciate for both their utility and style.
Deck the Halls: Quilts to Celebrate Christmas
Author: Cheryl Almgren Taylor
Publisher: That Patchwork Place
In this rich collection of Christmas patterns, you'll find festive quilts to deck the halls— And mantels, tables, floors, and more! These projects include delightful designs for children as well, so you'll soon have everyone dreaming of Christmas!
* Choose from 10 warm and welcoming projects for decorating or gift giving.
* Prepare for the holidays with wall quilts, table toppers, a tree skirt, a mantel quilt, and stockings.
* Create pieced and appliquéd projects that include floral appliqué motifs such as poinsettias and mistletoe.
For the Love of Hand Stitching with Jan Constantine
Author: Jan Constantine
Publisher: C&T Publishing
* 21 signature applique & embroidery designs from popular designer, Jan Constantine.
* Learn basic applique techniques as well as a range of easy-to-master embroidery stitches.
* Jan's bold and playful imagery will complement any home.
In this collection of projects, Jan features an inspiring mix of style-romance, nostalgia, patriotism, and celebration. Update your home with elegant new colors and chic accents. Choose from pillows, a quilt, a throw, place mats… Even aprons and totes too!
The Crafter's Guide to Taking Great Photos: The Best Techniques for Showcasing Your Handmade Creations
Author: Heidi Adnum
Publisher: Interweave Books
The Crafter's Guide to Taking Great Photos is your must-have guide to learning to shoot better photos, with tips and advice written specifically with artists and crafters in mind. Amidst the sea of handmade jewelry, apparel, housewares, art, and other crafts that populate blogs, websites, and online marketplaces, you need to make your items stand out. The key is great photography. Beautiful hand-crafted garments, jewelry, artwork, textiles, and home accessories can all be undermined by poor or uninspired photos that fail to represent the detail, color, and artistry of your creations.
Out of the Box with Easy Blocks Fun with Free-Form Piecing
Authors: Mary Lou Weidman, Melanie McFarland
Publisher: Martingale & Co.
Using step-by-step instructions, learn to make out-of-the-box blocks, square them up, and fit them together in a dynamic border or quilt top.
* Treat yourself to patterns for 13 whimsical blocks and seven colorful quilts.
* Make pictorial blocks, such as cats, shoes, ice pops, and letters, as well as wonky traditional blocks, such as Nine Patch and Stars.
* Enjoy confidence-building projects that anyone can make.
At Home with Handmade Books: 28 Extraordinary Bookbinding Projects Made from Ordinary and Repurposed Materials
Author: Erin Zamrzla
Publisher: Roost Books
The handmade books presented here offer creative ways for you to explore your personal styles and interests: Create a record of this year's garden with a book made out of seed packets. Collect your favorite recipes under the protective cover of a plastic cutting mat. Make simple memo pads out of recycle bin scraps. In this collection of twenty-eight Japanese bookbinding projects, traditional techniques meet contemporary style, from easy-to-fold accordion books to the intricate and interesting Japanese stab-stitch bindings.
Win a $30 gift certificate to Jennifer Ladd, Handmade Purses & Bags. Jennifer makes handmade bags and purses that are modern and elegant, simple and sleek, cute and quirky too. The gift certificate can be used for both merchandise and shipping. Jennifer writes, "Feel free to keep it for yourself OR give it as a gift!" You could buy a beautiful new coin purse like the one pictured here!
Win a $25 gift certificate to QuiltedCupcake. QuiltedCupcake offers unique handmade fabric creations, including laptop, iPad and e-reader cases, as well as baby gifts. (This image is one of the QuiltedCupcake iPad or HP Tablet Covers!) QuiltedCupcake is currently expanding a line of vintage fabric items, include vintage charm packs and pillow covers.