Learn how to make a bikini with these 18 free bikini sewing patterns for beginners. Each bikini sewing pattern comes with easy instructions and a PDF guide. This summer season is the perfect time for you to experiment with these free bikini sewing patterns and make something that would fit and flatter your body perfectly! Women's bodies change throughout their lives – when they are a teenager, after getting on birth control pills, giving birth, and much more.
However, that shouldn't ever stop you from feeling your best at the beach and having fun! All you need to do is to find the bikini style that would look good on you. You can re-create these beautiful bikini tops and bottoms on your own – this will give you room to add your customizations with sizing. Choose your ideal cup, bust, under the bust, waist, and hip size to make these pieces.
Bikini sewing patterns can be in many unique patterns and styles. This guide features the styles that are flattering on most body types and unique patterns so every woman can find a pattern they like! You will find basics to advance instructions in this bikini sewing patterns guide and super cool pieces, as well. Do you want to go with a feminine style? You can go with the styles like scalloped bikini tops or the sew twist top! Feeling inspired by a vintage movie that you just watched? Find ideas like the high-waisted bikini style or ruched pieces.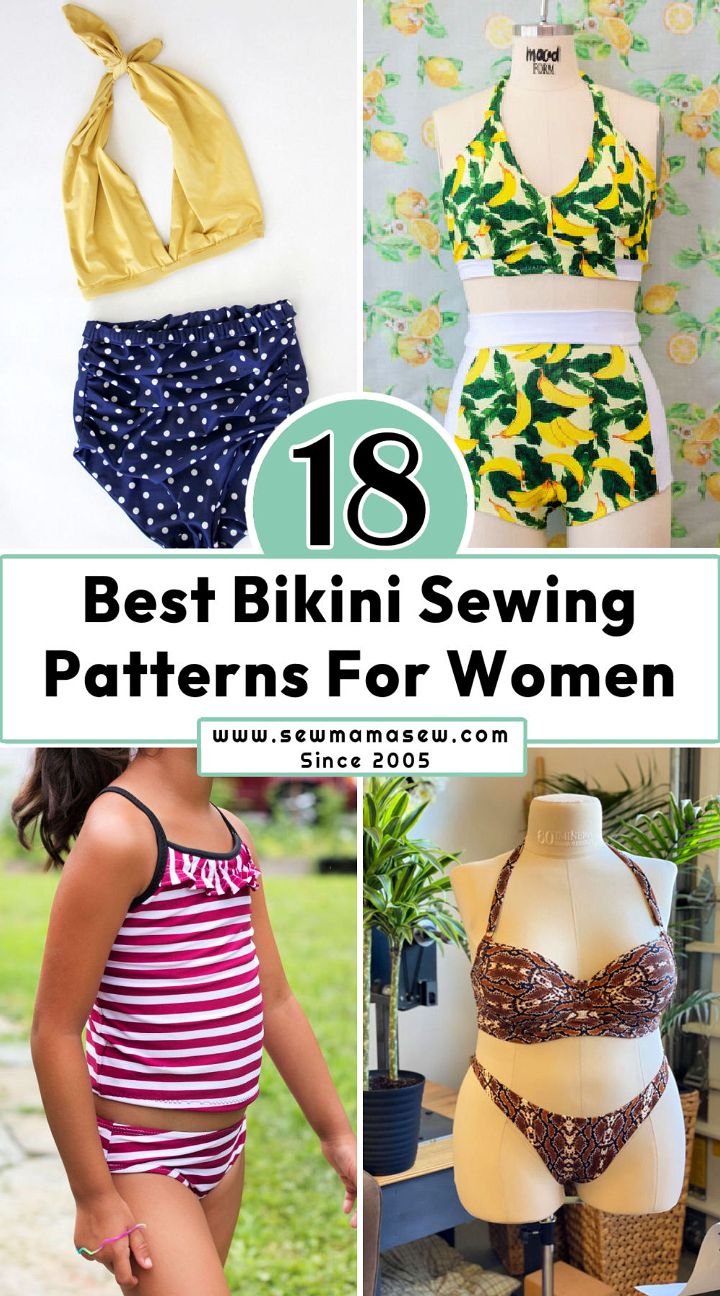 Furthermore, if you want to go with classic bikini sewing pattern– take a look at the simple black bathing suit style or the leopard print swimsuit! After finding the option you like, click on the link to find the whole guide with proper instructions and a list of the materials.
1. Halter and High Waist Bikini Sewing Pattern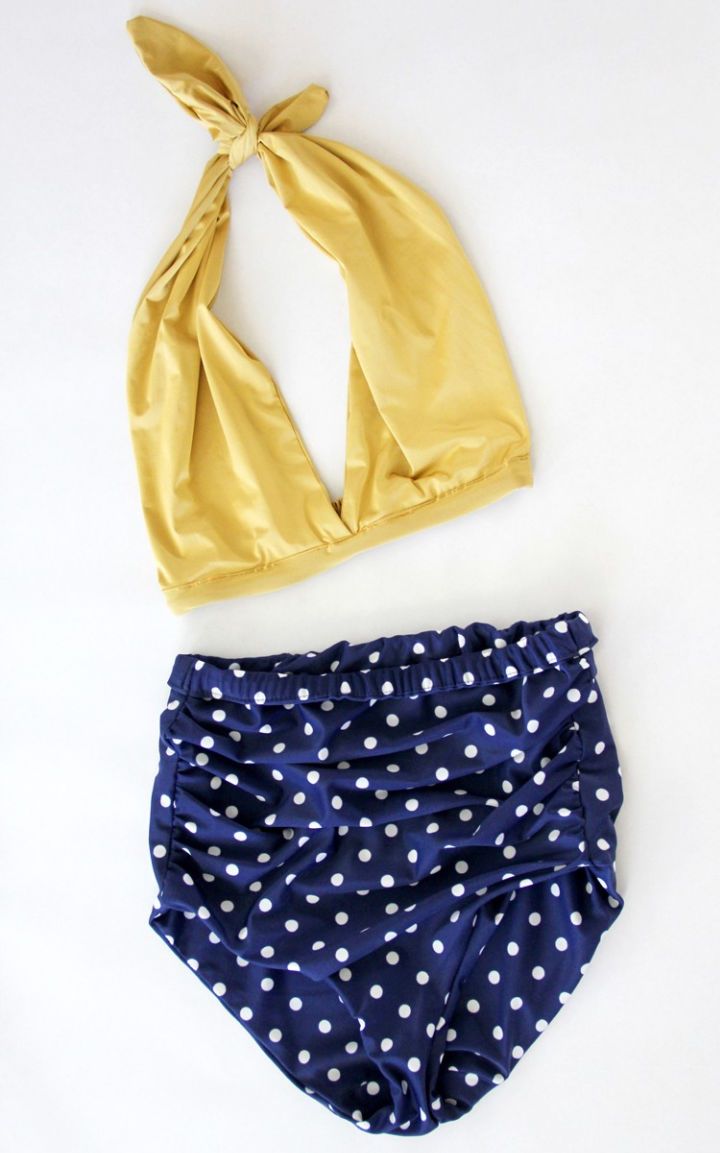 If you want to find a bikini pattern that is the most flattering for your body after giving birth, then this is the perfect guide for you. It features a top with decent coverage and a high-waisted bottom with some ruching! Swimwear material, elastic, coordinating thread, sewing needle, and a printable high waist bikini pattern are all the materials required to re-create this design. mesewcrazy
2. The Cordia High-Waisted Swimsuit Pattern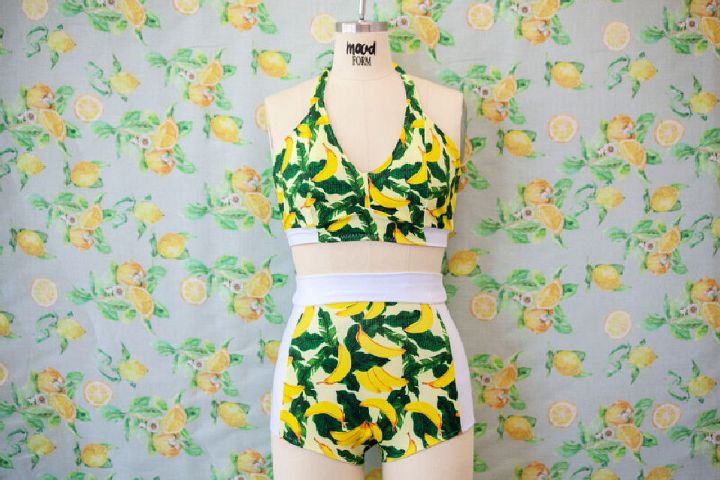 Who doesn't love wearing high-waisted swimsuits with cute halter tops? You can make them with any fabric of your choice by following this guide. The best thing about this style is that you will always manage to look classy and stylish at the same time! A few supplies will be required – swimsuit sewing pattern, aloe-vera microcapsules, nude shaper power mesh, cotton swimwear elastic, bra cups, etc. moodfabrics
3. Girls 2-Piece Swimsuit Sewing Pattern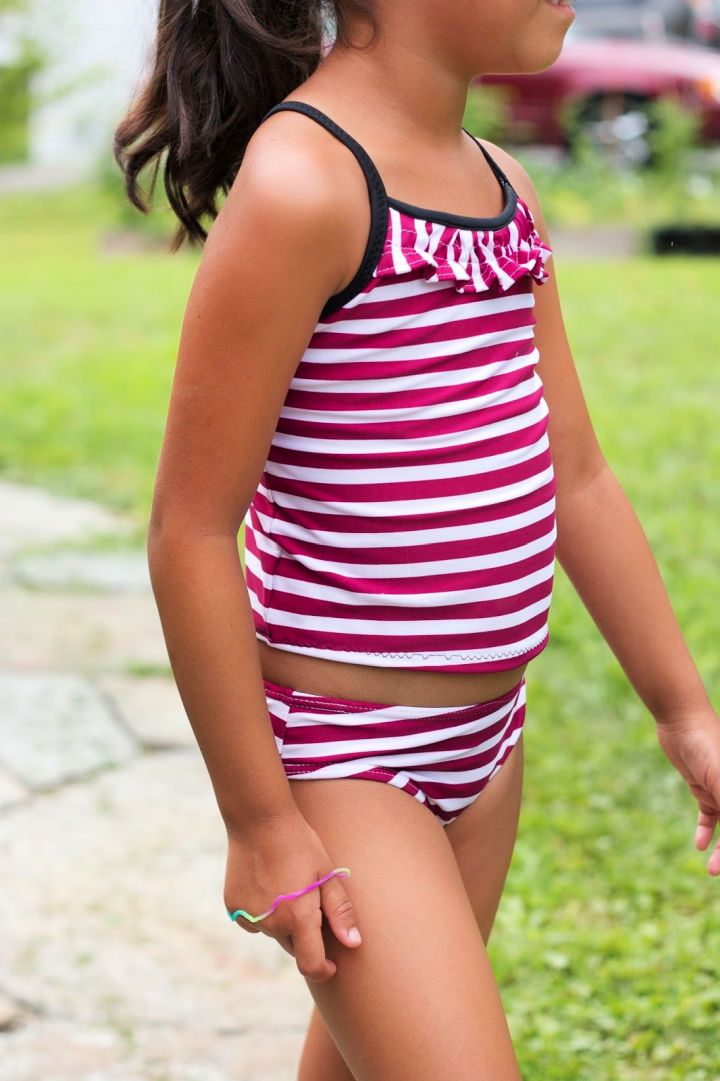 Little girls usually love the idea of wearing two-piece swimsuits and ditching their one-piece ones. If your little one also wishes to wear a two-piece set – here's an idea that you can re-create! It is going to look stylish and age appreciates – perfect for any early teenager or tween girl. Swimsuit fabric, lining fabric, elastic, and a few other supplies will be required. Moreover, the seam allowance will be around ½ inches. zaaberry
4. How to Make a String Bikini Top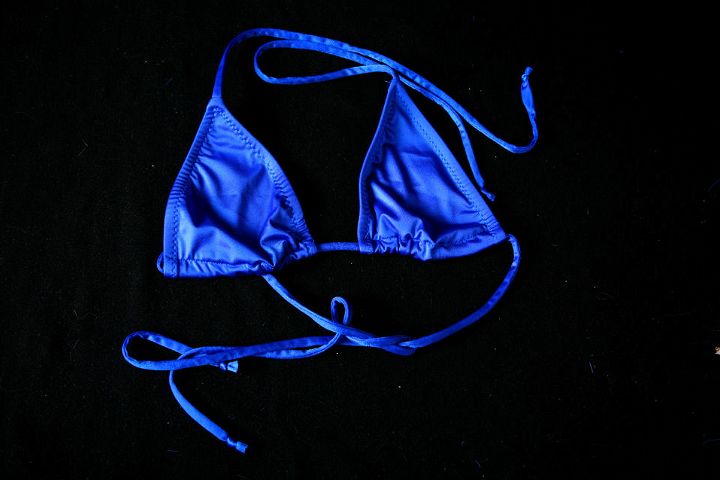 String bikini tops are very trendy these days, and almost everyone is trying this style out! However, due to this style being trendy – these types of tops are also quite expensive in the market right now. Why spend the much extra bucks when you could just make one in the comfort of your own house? The best part about this is that you can perfectly customize the size according to your bust, cup size, underbust, and shoulder length! Isn't that amazing? spandexsimplified
5. Free Bikini Bottom Pattern for Girls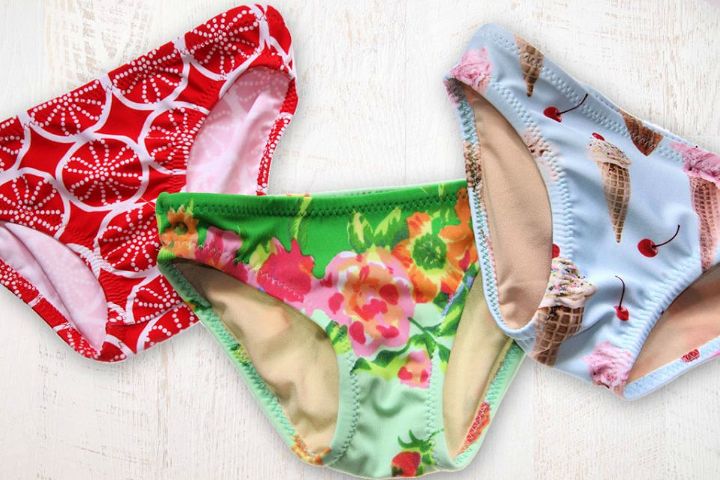 Teenagers and tweens always look for cute and trendy styles and get inspired by them. If your little one is also asking you to buy her the latest swimsuits in the market – you can just follow this guide to make the cutest bottom pieces! Moreover, in comparison to the other bikini sewing patterns – this guide has many sides ranging from 2 to 14! Start by gathering the supplies – main fabric, lining fabric, etc. and then follow the rest of the steps. treasurie
6. How to Sew Twist Bikini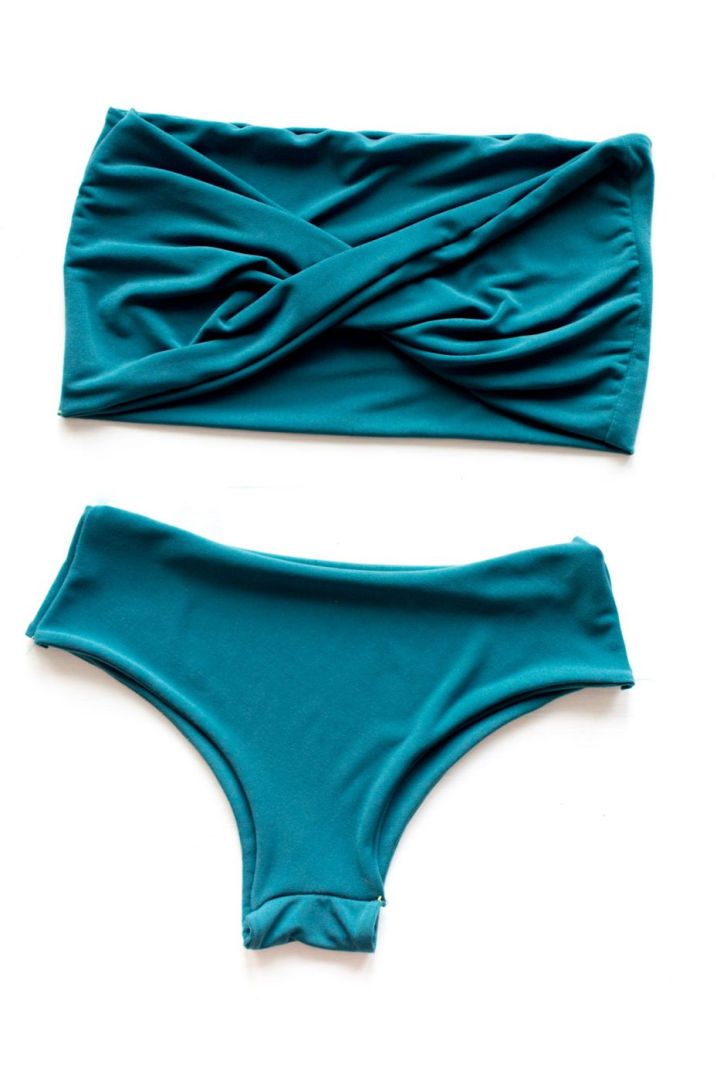 Looking for bikini ideas to stand out from the crowd and look the coolest out of all your friends this summer season? Well, then you need to take a look at this bikini pattern! In comparison to the other simple bikini sewing patterns, this one features an amazing style in it – the twist bikini design! Don't you just love it? A few supplies will be required – a sewing machine, stretch fabric, scissors, measuring tape, pattern paper, etc. sweetteal
7. One Piece Swimsuit to High Waist Retro Bikini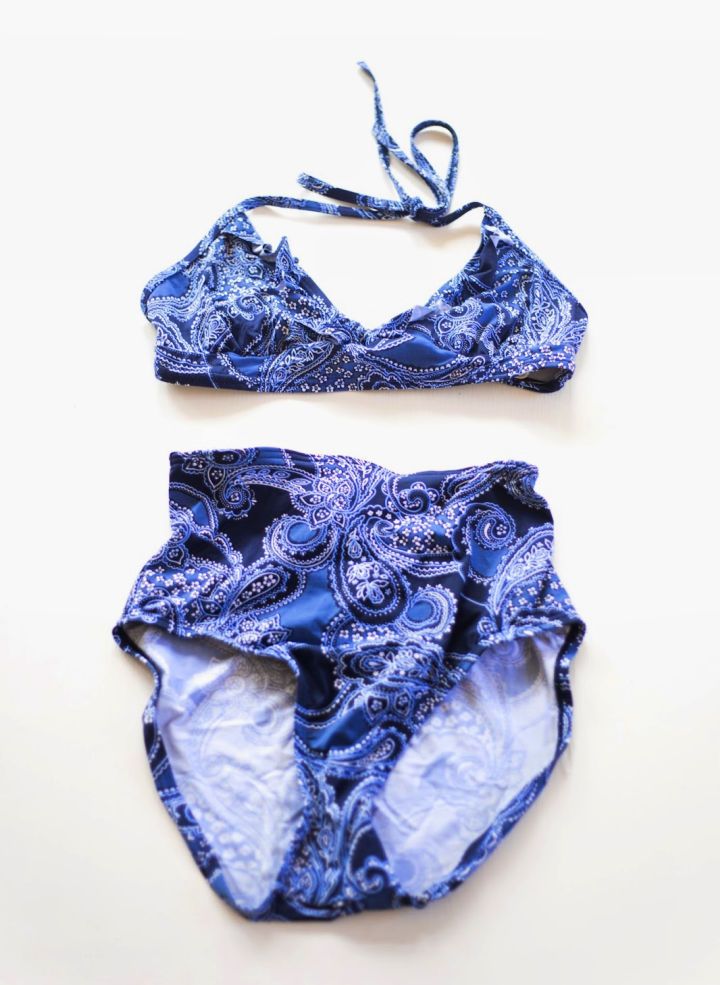 The 80's trend of high waist swimsuits is back! So, gather all of your one-piece swimsuits and turn them into these beautiful two-piece flattering ones! Not only is this style flattering, but it also provides the perfect amount of coverage for you to stay comfortable at the beach while looking cute. All you need to do is to cut right in the middle and then sew in the edges from the cuts! You can add any customizations that you want, as well. doityourselfdivas
8. DIY Little Leopard Bikini Sewing Pattern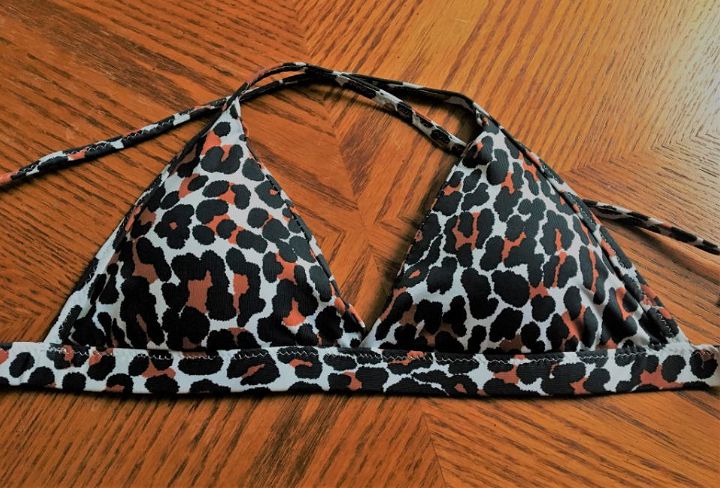 Looking for a guide that will teach you to re-create that perfect triangle top swimsuit that you keep finding and seeing all over your social media? Here's the guide for you! Learn how to make the ideal leopard print bikini top for your body size and shape. Not only will it be very flattering on you, but you will also be able to move around and enjoy comfort while wearing it! The difficulty level of this project is easy to medium, so any beginner can give it a try. travelherstyle
9. Chloe Inspired Scalloped Bikini Pattern Free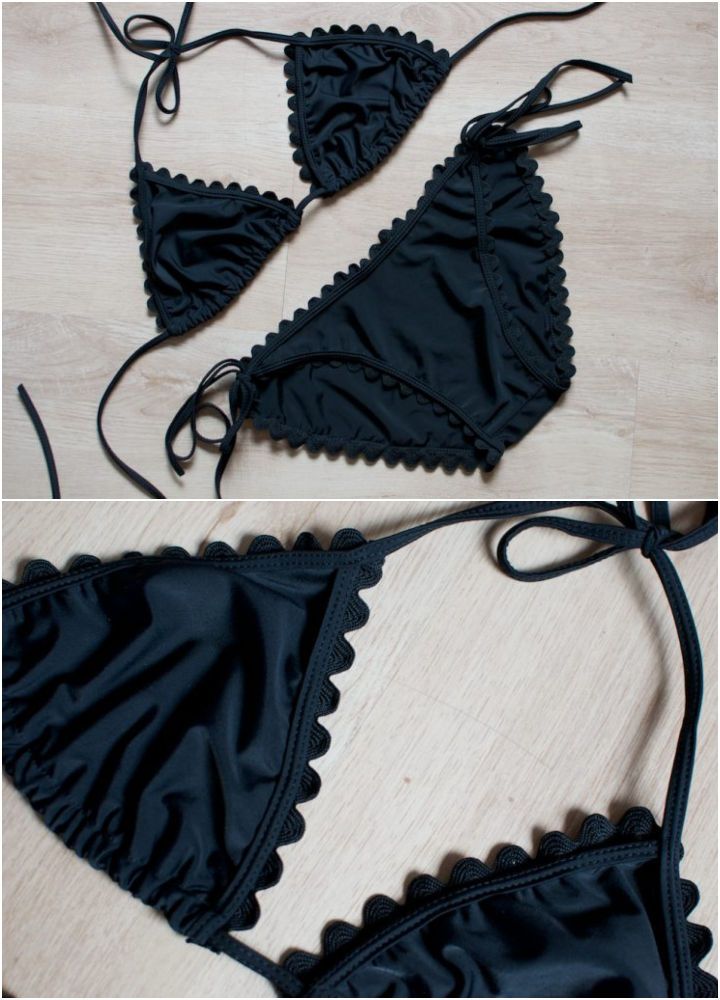 Do you remember the iconic Chloe version of a bikini top from a decade ago? Bring it back this season by following this guide to learn how to make this beautiful and ultra-feminine piece. You will only need a few basic supplies that you probably have at home – a triangle bikini set, curly trim, pins, scissors, a needle, and a matching thread. The trim will be attached to the edges to give your bikini a soft and pretty look. collectivegen
10. Free Bikini Top Sewing Pattern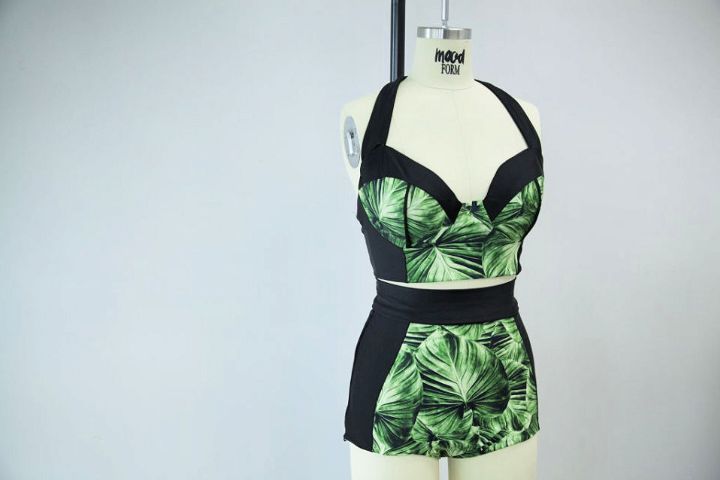 Want to find the sewing template for the trendiest bikini style of the season? Click the link below to find the downloadable template on this website! It features a beautiful high-waisted bikini bottom along with an adorable halter top bikini top. The print of the fabric can be customized according to whatever you'd like. Aloe-vera microcapsules, black matte tricot with high compression, and bra cups with a strap are all the supplies required. moodfabrics
11. Free Swimsuit Sewing Pattern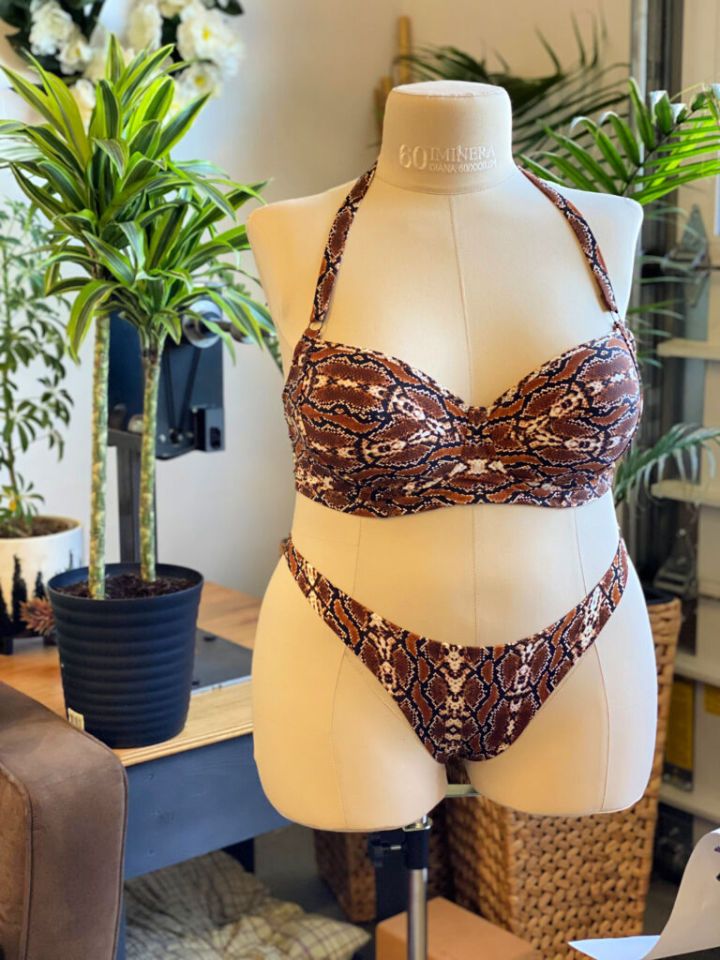 If you already are aware of how to make a black beauty bra and now want to learn how to turn it into a swimsuit top, follow this guide! This guide features an underwire bra with extra support for your body to look amazing. This top would be perfect to pair with many different bottoms and cover-ups. You can style it in countless ways and always look good wearing it as it is quite flattering. A great plan for people with larger bust sizes! emeralderin
12. How to Sew a Bathing Suit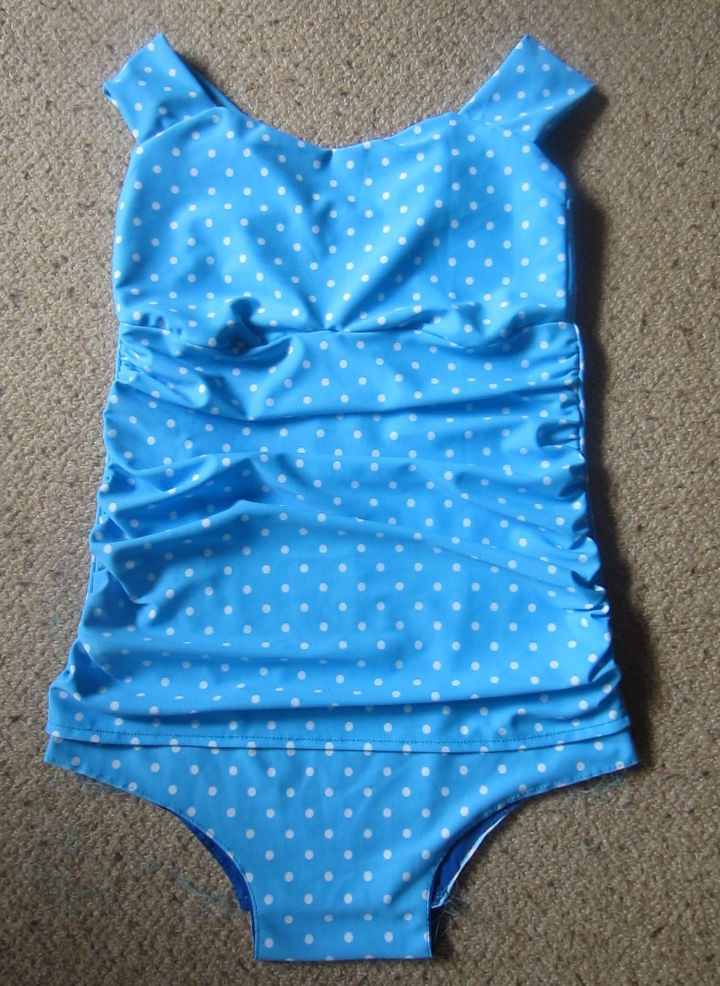 A pin-up bathing suit is always going to be a classic! You might have seen this style in a vintage picture of a model or an old movie and got inspired. Whatever the case may be, you can never go wrong with a bathing suit like this one! It's elegant, classic, and timeless – you can even give it to your daughter when she grows up. Do you want to learn how to stitch it? Take your measurements, make a draft of your suit pattern with your measurements and gather the supplies to get started! kitschycoo
13. Women's Sherwood Swimsuit Sewing Pattern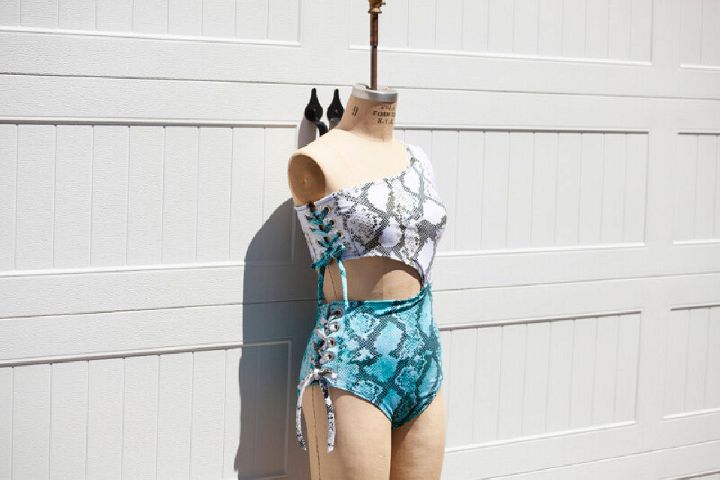 The Sherwood swimsuit will always stay timeless and trendy as it is such a unique and cute style. Not only will you get a flattering high-waisted bottom but also a stylish one-shoulder top with a cute fish skin pattern on it! You can pair this with a lot of sunscreens and a cute sea-shell necklace to look amazing. The cute string style at the sides of the top and bottom piece will give it a nice youthful flare! So, are you excited to give this project a try? moodfabrics
14. Vintage Style High Waist Bikini Pattern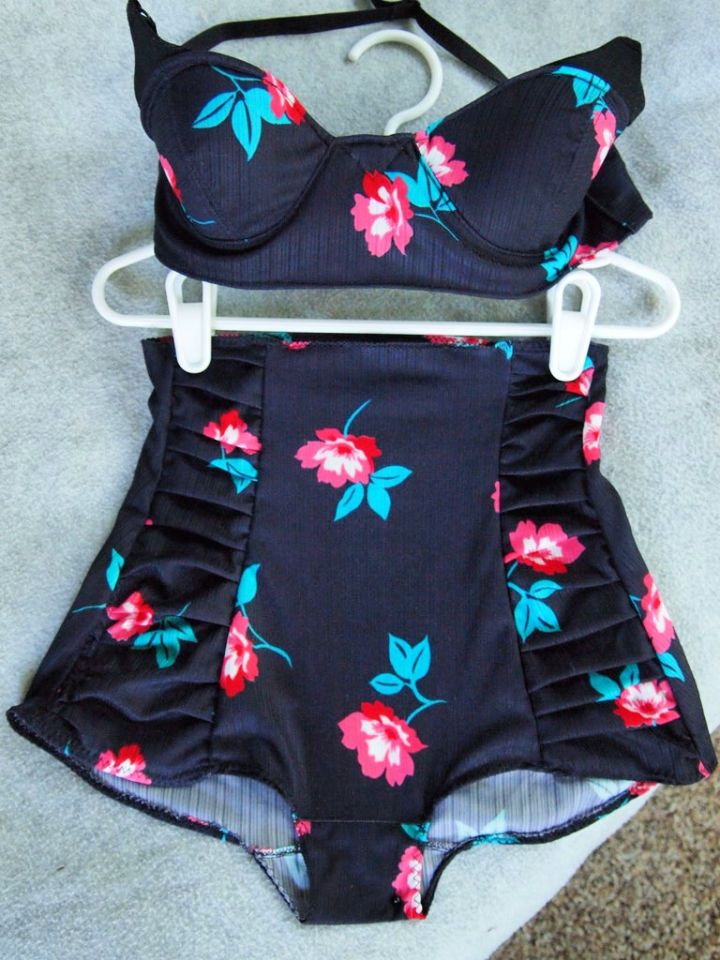 The vintage style of bikini bottoms was mainly high-waisted and floral – it looks super elegant and beautiful. Do you want to give this type of style a try and stand out from the crowd this summer at the beach? Click the link below to access all the instructions you will need to learn this process. Gather the supplies – swimsuit fabric, lining fabric, braided elastic, soft stretch elastic, bra hook, sewing machine, pins, cutting tool, etc. After this, you can begin the cutting process. instructables
15. How to Sew a Swimwear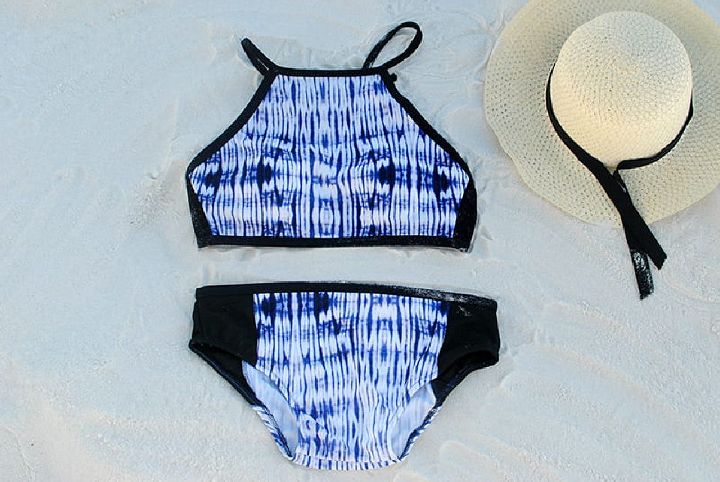 Isn't this just an amazing way to make a swimsuit? You will only get the retro checkered pattern but also floral strips to balance out the aesthetics of this piece. This one-piece can be made for almost any girl or woman of any age. In comparison to the other bikini sewing patterns, this is quite versatile as there is no age limit. Moreover, you will get to follow clear-cut, straightforward, detailed instructions with images so it can make it easy for you to understand everything. brother usa
16. Triangle Bikini Top Sewing Pattern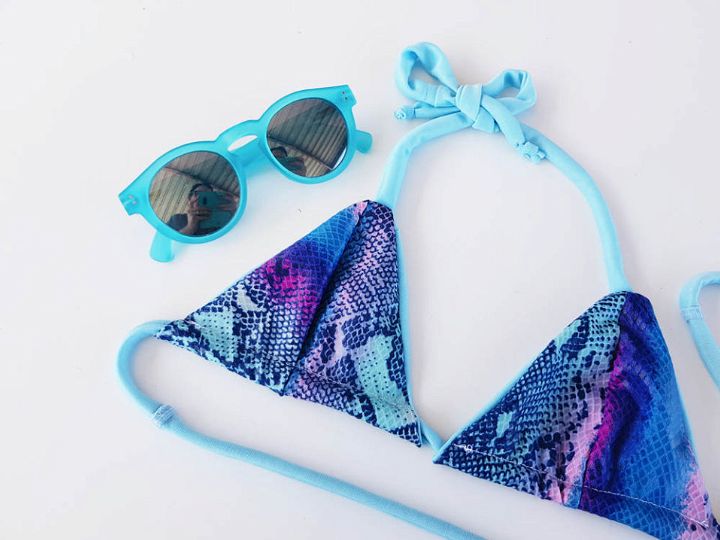 Do you wish to make a bikini top that you can pair with several different bikini bottoms during the upcoming festival season? Take a look at this guide to learn how to find a fabric that you can match with almost any color. This top will not only look super stylish but also will be amazing to pair in many different ways. The skill level is beginner, the approximate cost is around 5 dollars, and you will only need a total of 1 hour to re-create this piece. nowthatspeachy
17. Sew A Tankini From One-Piece Swimsuit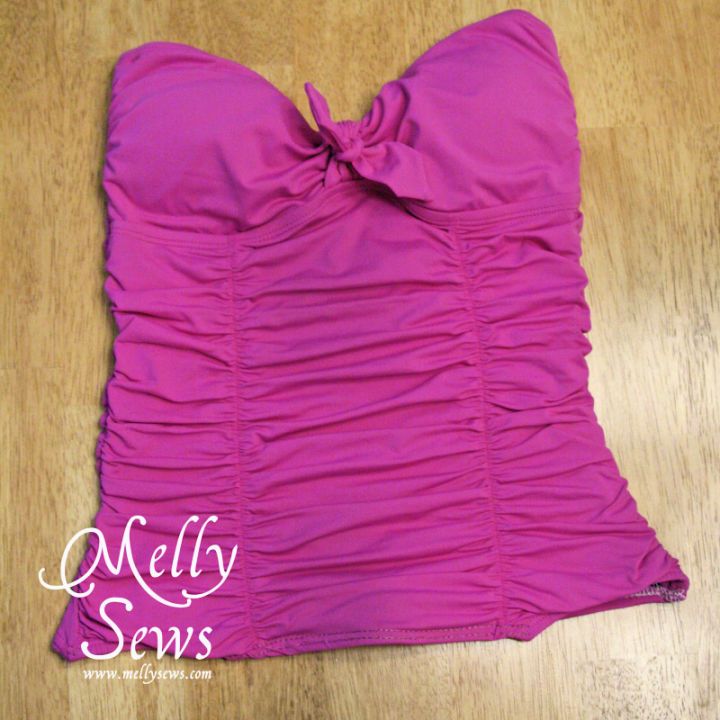 If you have any old swimsuits that you just don't west anymore because of sizing issues or their style – those one pieces can easily be turned into cute tank tops! Tankinis can be worked to the beach or any other summer-themed place with normal jeans, shorts, or skirts! A great way to take an old swimsuit and turn it into a much more versatile top. You will need to cut off the bottom of the one piece and sew in all the edges, and you're done. Isn't the process super easy? mellysews
18. Bikini from Scratch Sewing Pattern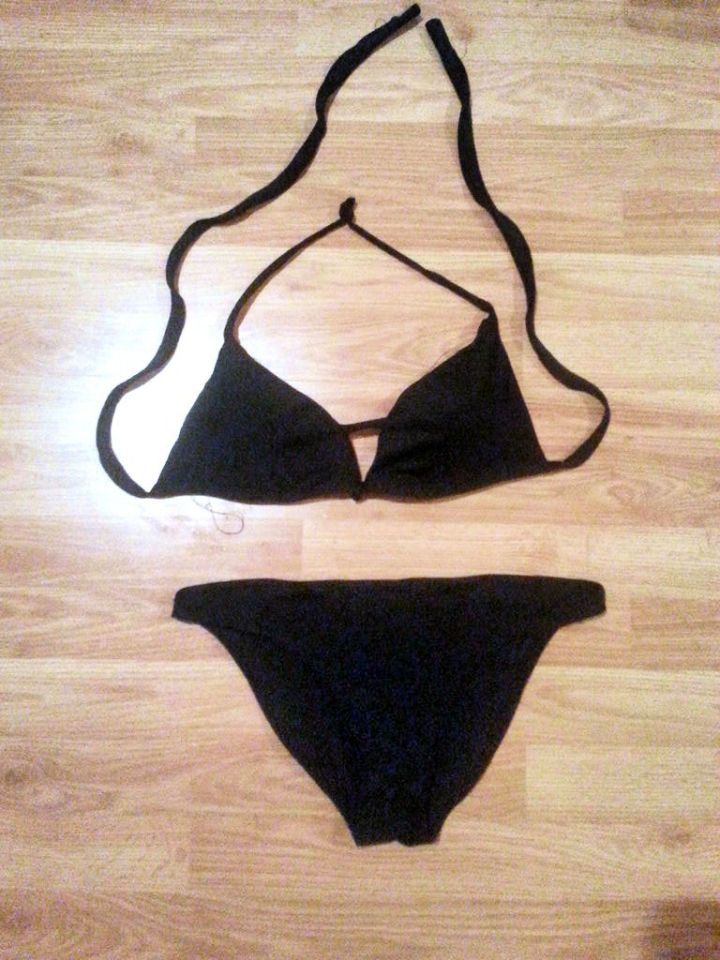 Here's a guide that will walk you through on how to make a beautiful swimsuit from scratch in comparison to the other bikini sewing patterns, which were more focused on designing. Do you wish to learn how to make a basic, low-waisted, classic swimsuit? Follow this guide to learn how to do so! You will need a few supplies – spandex swimsuit material, black thread, sewing machine, pins, rulers, tissue paper, bra cups, etc. instructables
Related Free Sewing Patterns:
Free Dress Sewing Patterns
Learn how to sew a dress with these free dress sewing patterns for women. These easy-to-follow instructions will help you create the perfect dress for any occasion.
Top Sewing Patterns
Need to make a dress, top or tunic? Find the latest free sewing patterns for tops that are easy to sew, beginner friendly.
Maxi Skirt Pattern
It's time to dress better, so get yourself a new maxi skirt. Get the perfect fit for your body with these free maxi skirt patterns with easy instructions.
Free Wrap Top Pattern
This wrap top pattern is so easy to sew and looks beautiful. You'll love the way it fits and drapes.
Free Crop Top Sewing Pattern
This free crop top sewing pattern is perfect for beginners. With just a few simple steps, you can create a trendy crop top that's perfect for summer.
Free Shorts Pattern for Womens and Mens
Looking for a free pattern to make shorts? Look no further! This guide on free shorts pattern are perfect for both women and men, and is easy to follow.
Conclusion: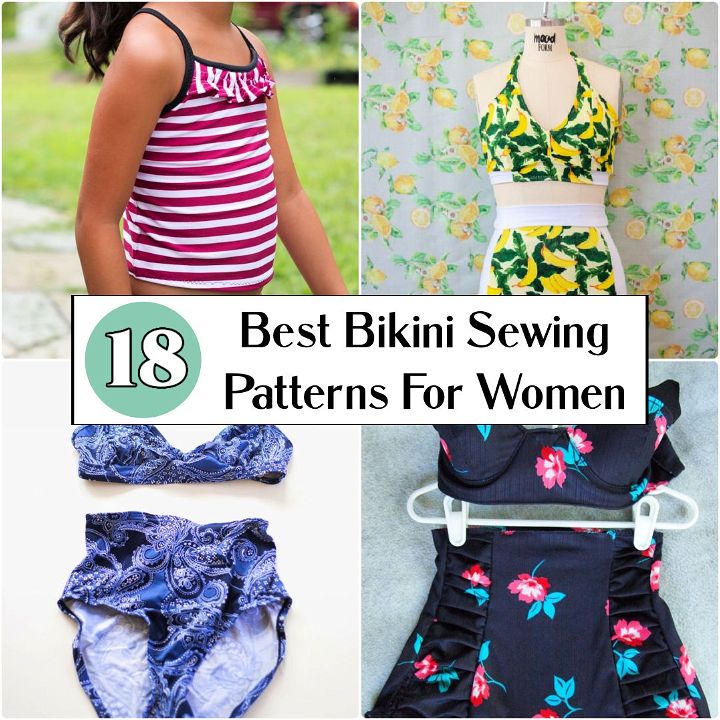 Re-create these bikini sewing patterns to look iconic this summer season! You won't have to worry about getting uncomfortable with most of these designs. You can dance, float, swim and move around freely while playing with your kids or friends on the beach this summer! Have the best time of your life without any worries about your bottoms or tops having any slips or falling off. This is the best part about making your swimsuits – you can make them fit you perfectly, so they don't slip off. Make sure to write down your exact measurements before getting started.