Are you looking for a face mask pattern? Learn how to make a face mask with these 40 free face mask patterns, plus a printable sewing pattern PDF, template and easy instructions. There are lots of different styles and beautiful face mask patterns to choose from, and most of them can be made in just a few minutes. Plus, you can use fabric scraps from your other projects, so there's no need to spend a lot of money on materials.
As you know, the temperature is dropping, and you can smell the fall and winter in the air! Do you often get sick by breathing in all the cold and dry air lurking outside? Avoid getting seasonal allergies, sinus infections and winter headaches by wearing a face mask! With these 40 free face mask patterns, you can easily sew lovely masks at home with minimal sewing skills! This will eliminate the need to buy new masks every day and will make you save a good amount of money!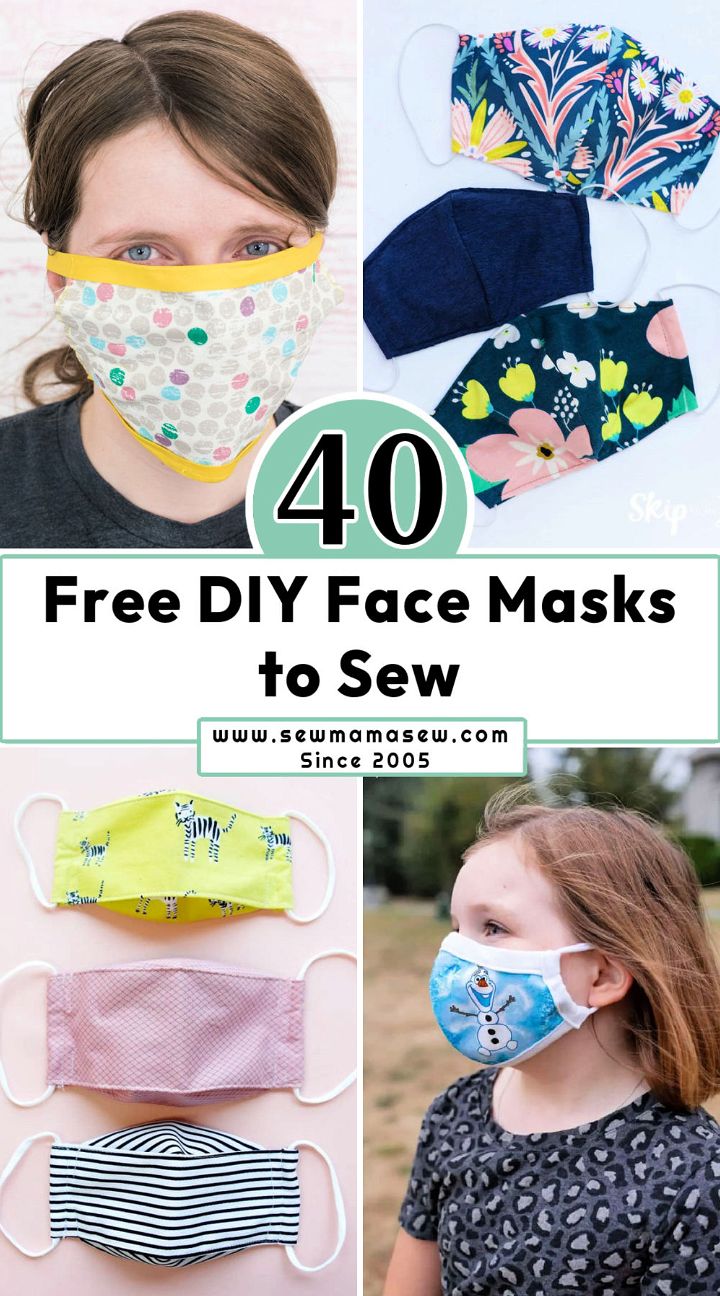 The best part is that wearing a mask will protect you from breathing in contaminants that can cause lung cancer, asthma and other respiratory illnesses! A face mask will also be a big must-have for you if you work in high-risk environments like hospitals or chemical factories! So, explore these 40 free face mask patterns with PDF templates and learn to sew all sorts of face masks at home like a pro! You will get patterns to sew surgical or medical masks, 3D masks, N95 mask covers, glam masks, 3-layer masks, contoured face masks and spooky Halloween masks!
At the same time, these free DIY face mask sewing patterns will be one of the easiest and quickest sewing projects for beginners! They will allow you to show your sewing creativity while adding a lot to your sewing skills! In addition, these face mask patterns will make lovely handmade gifts for friends, family members and healthcare workers! It will take much less fabric to sew a face mask, and you can even use fabric scraps and recycled fabrics for these mask sewing patterns!
1. Printable Face Mask Sewing Pattern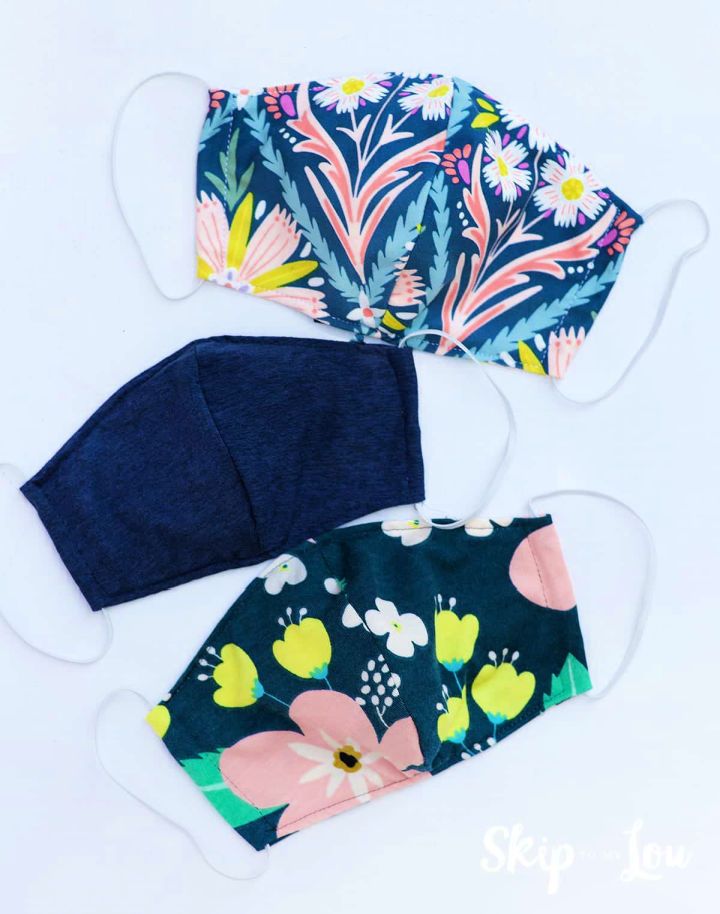 Wearing face masks in routine is expensive as they get dirty soon and must be replaced. Some masks are too tight and restrict movement, and others are too loose, so they come off at night. This can cause a big discomfort too. So, follow this free printable sewing pattern and sew yourself a best-fitting mask at a fraction of the cost. It will take only 1 minute to sew it using soft stretch fabric and elastic. skiptomylou
2. Easy DIY Face Mask Pattern – Free Printable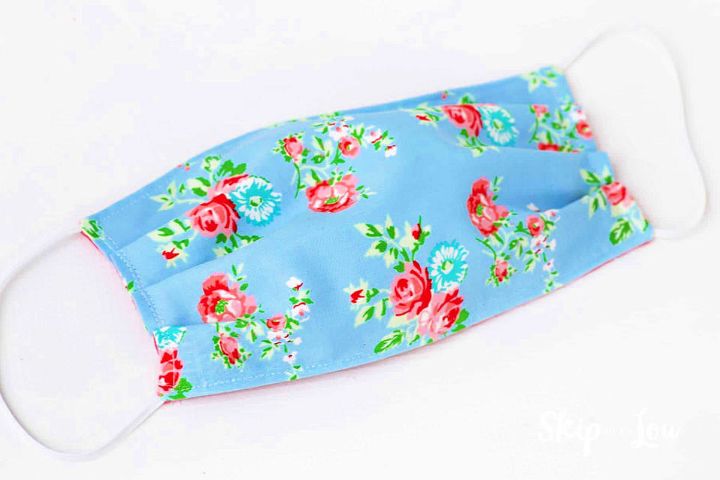 Do you want to know how to sew a face mask during the cold season? But are you an avid sewist? It is winter, and flu season is just around the corner. So, it is important to be prepared with a face mask. Sew one for yourself or as a gift to loved ones. This handmade face mask keeps you warm and cozy in winter with its snug fit. Follow the step-by-step instructions, and download your Free Printable Pattern to sew this mask. skiptomylou
3. Sewing Pleated Face Mask Pattern with Filter Pocket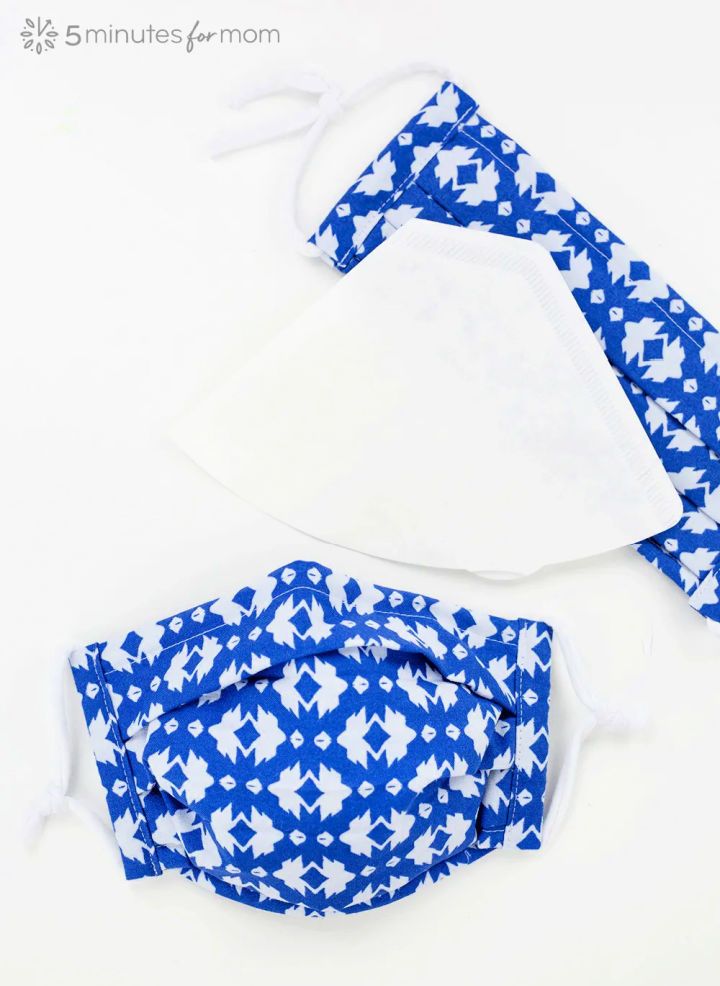 The weather is getting colder, and you still want to enjoy the world outdoors. But, you don't want to take a risk of getting sick by breathing in all the cold, dry air that might be lurking outside. So, have you started looking into face masks, but they all seem too expensive? With this printable face mask pattern template, consider sewing this pleated mask with a filter pocket, sure to make you look great while providing debris and dust protection. Sewing this mask will be easy with the help of provided free pattern and tutorial, the pattern guides for sewing 6 different sizes of the mask. 5minutesformom
4. How To Make A Mask With Fabric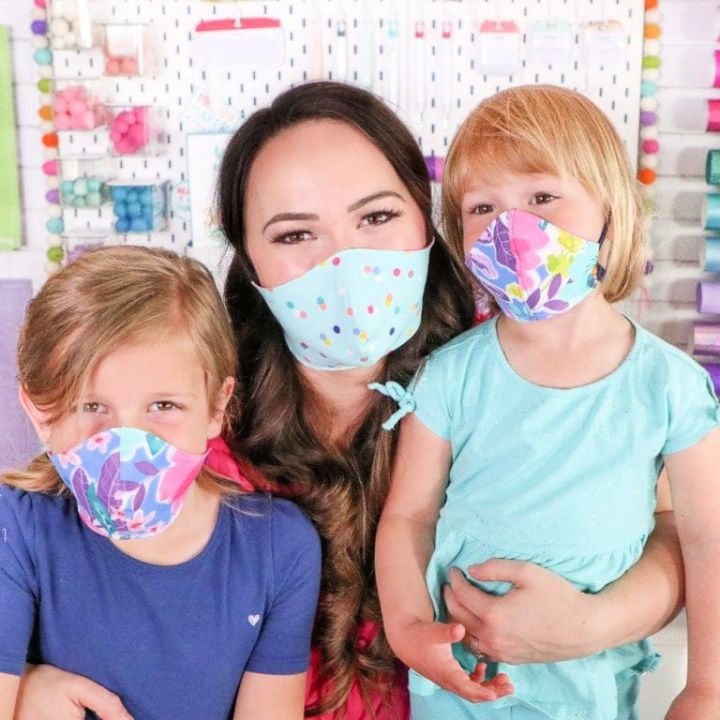 This tutorial give ultimate instructions about how to sew a close-fitting cotton mask with bias tape or elastic and a flexible nose wire. Now you can buy the supplies for cheap or use what you already have (elastic, bias tape, pre-made wire), which means sewing this mask won't cost much. In addition, you will have the freedom to decorate it in the way you like for a personal touch. Time to wear winter protection in style with this mask. Use the 100% cotton fabric for this mask. sweetredpoppy
5. Versatile Face Mask Pattern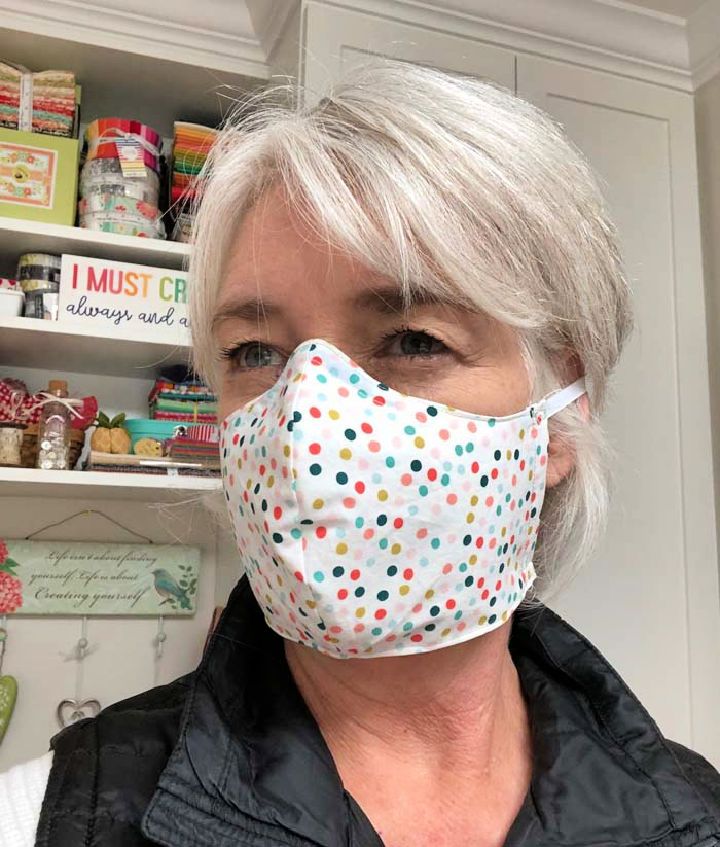 The health risks of indoor air pollution cannot be ignored. We are all exposed to harmful bacteria and toxins daily in our homes. It is not just a concern for health, comfort, and style. Wearing masks should not spoil your outfits. So, wearing a matching face mask like the given one will help keep the dust and pollution out of your nose and mouth while still making a statement. Sew this polka dotted mask at home with the help of provided printable pattern and tutorial. thecraftyquilter
6. Hybrid Face Mask Pattern – Free Template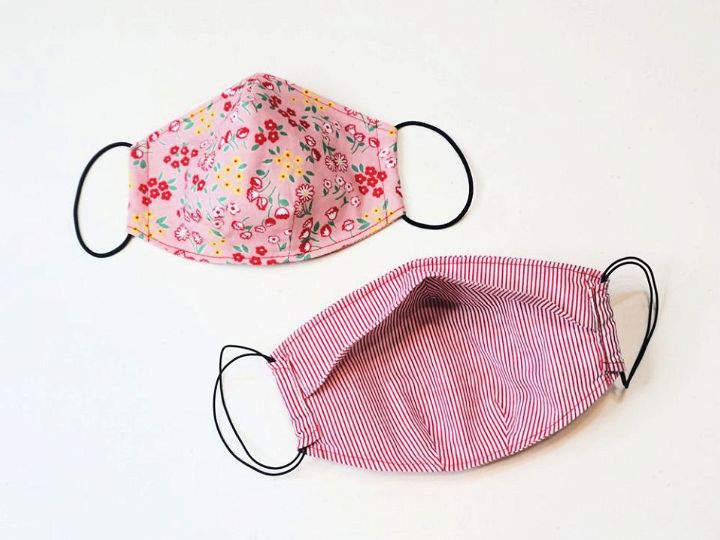 Do you know that breathing in contaminants can be just as bad for you as smoking cigarettes? It can lead to lung cancer, asthma and even birth defects. If you want to protect yourself from pollution, get dust and winter protected with this hybrid mask. Use the provided free template and tutorial to sew a floral face mask and check print fabrics. Use it as an emergency mask in a natural disaster or forest exploration.
The finished mask is 19cm long and 13cm wide. gwenstellamade
7. Printable Face Mask Pattern With Ties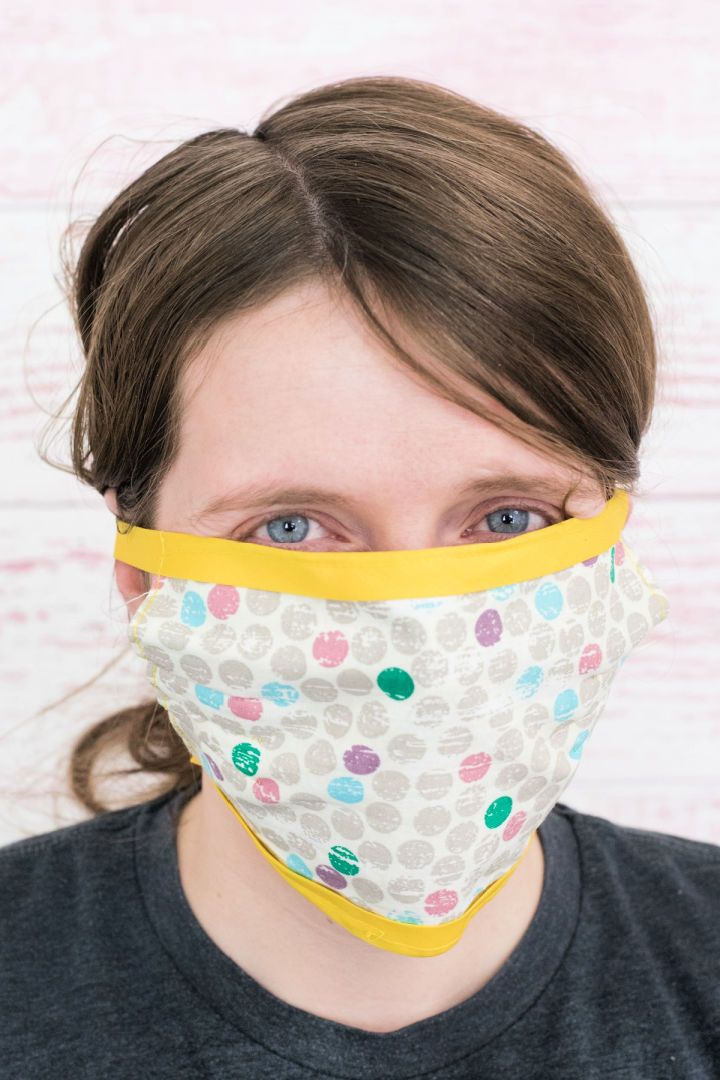 You love DIY projects but don't always have the time or resources to make them. And yet, you still want to keep up with the latest trends and show your friends that you can be hip with the times while still enjoying a little old-fashioned self-care. Introducing DIY face masks with ties. They are easy to sew using cotton fabric, ½" bias tape, and a sewing machine. Download the free mask pattern and cut your mask in fabric. Use scissors or Cricut for cutting your mask. clarkscondensed
8. 3 Layers Fitted Face Mask Pattern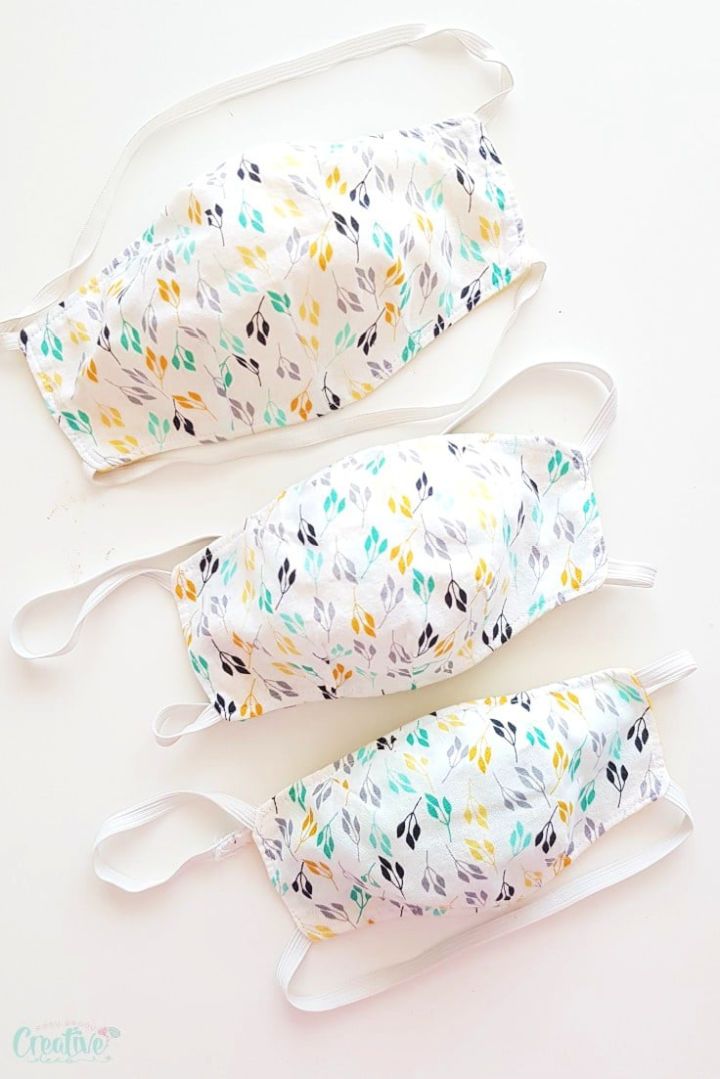 There are lots of ways in which individuals can protect themselves from pollution and stay healthy in this polluted world. One such way of protection lies with face mask patterns that filter out dirt, viruses and microscopic particles from the air. Follow this easy step-by-step tutorial and learn to sew 3 layers of the fitted face with a filter pocket. Such a mask costs you big when bought from the market. At the same time, the mask is fancy enough to add to your style.
You need cotton fabric, elastic and sewing essentials for this project. The free sewing pattern will allow you to sew 4 different sizes of this mask. theseamanmom
9. Homemade Face Mask Pattern Free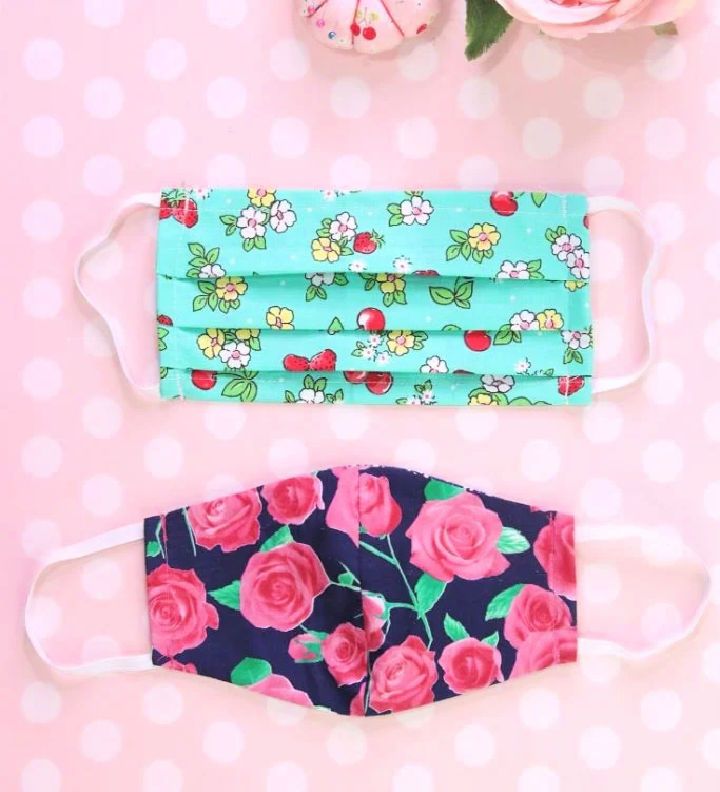 The world is increasingly becoming more aware of pollution's repercussions on the environment and its spread to all parts of the globe. It is crucial to take precautionary measures to protect oneself and be aware of the impacts of pollution. Use a DIY face mask to protect you from the air contaminants and dangerous viruses. You just need to buy one, sew yourself a great mask easily with this easy sewing pattern and tutorial. This guide will allow you to sew a mask in 2 different styles. treasurie
10. Halloween 3D Face Mask Pattern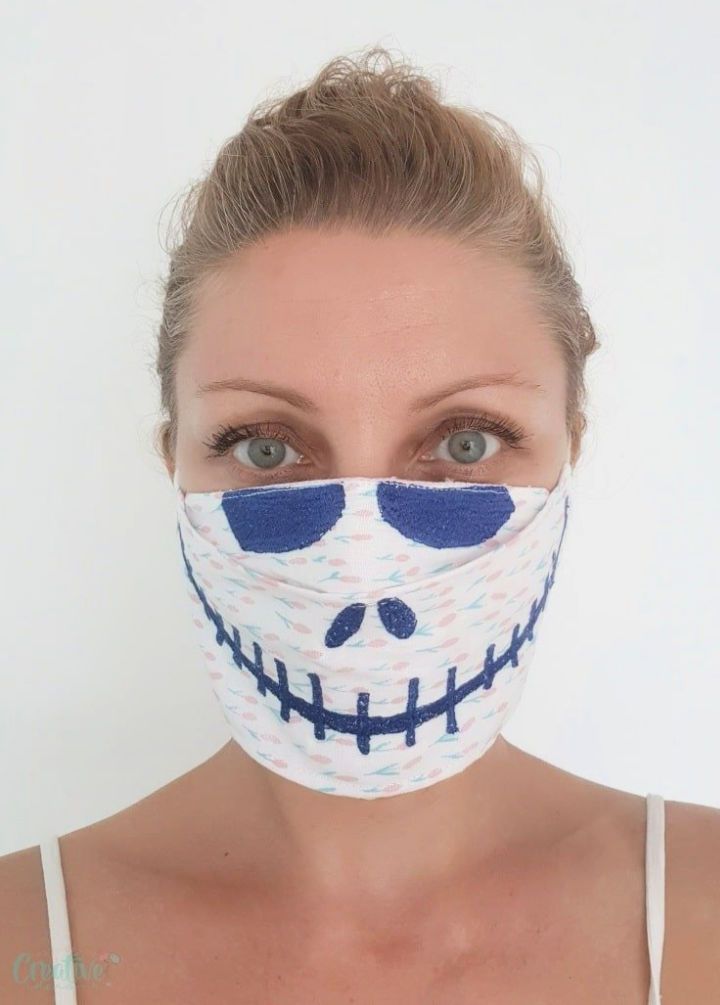 Pollution is a pressing issue that has reached pandemic levels in many parts of the world. It is quite common to see smog in their area or an increase in air pollutants during certain seasons. So, wearing a mask can be a great strategy to not get affected badly by the pollutants.
But wearing a mask should not make you sacrifice your style. Sew your own fancy Halloween 3D mask at home with the help of this easy step-by-step sewing tutorial and pattern. It can be used as a prop with your spooky costumes and also be part of the face makeup. theseamanmom
11. Free Fabric Facemask Pattern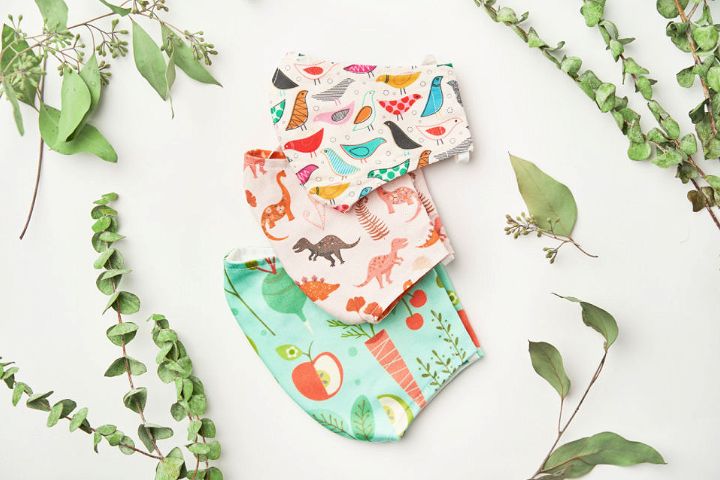 We are all expected to be prepared for the pandemic, but most of us are left wondering where to begin. Just start wearing a face mask that you can buy or sew at home. This printable face mask pattern pdf guide walks you through the process from start to finish, giving you all the instructions on how to create your own DIY mask in just a few minutes. The instructions are clear and concise, so no sewing experience is necessary. Finally, here is how you can become prepared for the pandemic.
You need 1 quarter of quilting weight cotton, 54″ of twill tape, or elastic sized to fit. spoonflower
12. How To Sew A Reusable Fabric Face Mask
A mask for allergy season is essential for those with sensitive skin, but most masks are expensive, ugly, and uncomfortable. Follow this easy guide and learn How to Sew a Face Mask with the help of a Free Printable Pattern that has everything you need to know about creating your mask. The mask tutorial shares everything from the materials and tools you need to complete step-by-step instructions. Sew your mask today & no matter what happens in your future, you'll be ready for anything. nowthatspeachy
13. 3D Face Mask Sewing Pattern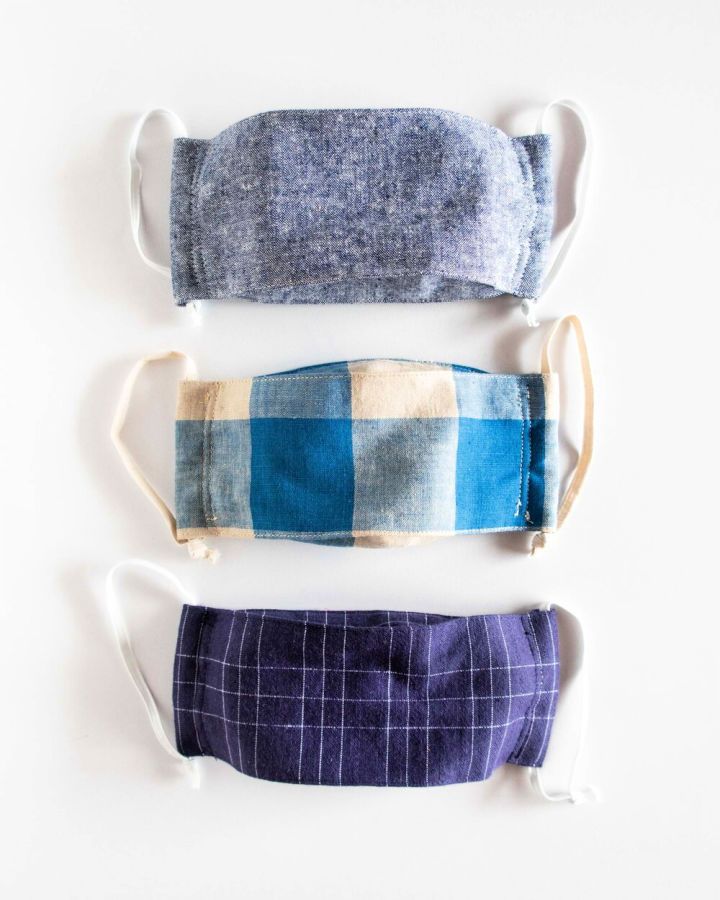 What is the point of being an avid sewist if you cannot show it off? Face mask sewing can be a great way to express your creativity and show off your talents. Impress all your friends and family by sewing this 3D mask, and you will get complete guides to sew it yourself. Sewing a 3D face mask doesn't need to be hard with this easy step-by-step guide. Follow these simple instructions and measurements to ensure you make a brilliantly fancy and durable face mask to the exact size. sewdiy
14. DIY Taylor Face Mask
Having a mask for allergy season is essential for those with sensitive skin, but most masks are expensive, ugly, and uncomfortable. Breathe this fall and winter freely with this DIY face mask. Sew your own from scratch using this free pattern and tutorial. This easy-to-sew pattern is perfect for the holidays. It will show you how to sew your face mask without any sewing experience and in no time. It is great for people with allergies and those who want to save money on masks. thegoodsdesign
15. Glam Face Mask Sewing Pattern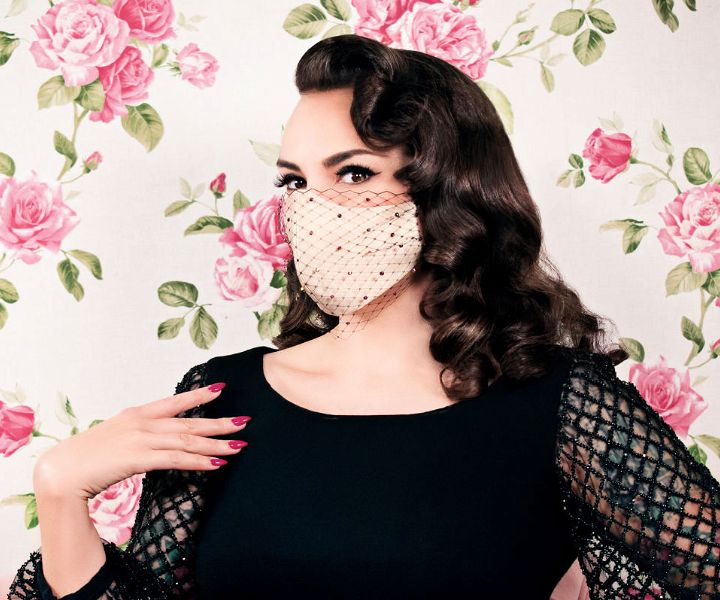 Wear style and protection against the allergy season and dry fall air using this glamour face mask. It will be highly amazing with the fashion dresses you mostly wear on a date night or at parties. However, the glamour comes with higher price tags in the market but can be super inexpensive to sew at home. Grab the free sewing pattern and tutorial for whipping up this adorable mask at home in no time. The mask comes with 3 layers and a decorative lace or veil overlay.
The pattern will guide you to this mask's S/M and L sizes. charmpatterns
16. Free Face Covering Pattern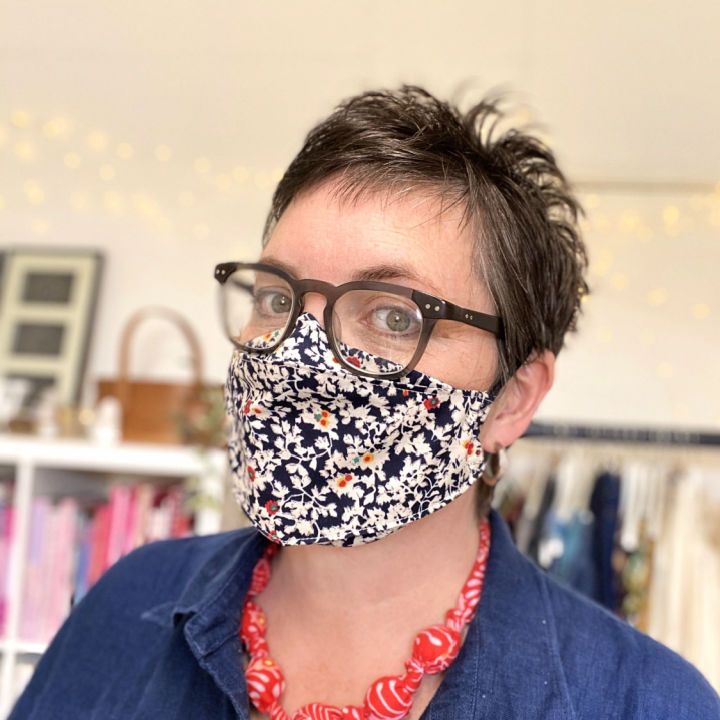 Finding the right face mask for your skin is hard, and it can be time-consuming. With so many brands and options, it's hard to know which will work best. We all know how important a good face mask is. It is tough to find the perfect one, but if you don't, you are setting yourself up for clogged pores and acne.
So, it will always be a great idea to sew your custom and personalized mask patterns at home, choosing your quality fabrics and embellishments. This printable face mask pattern will guide you through sewing the perfect face covering or masks you will love to wear repeatedly. sewmesomething
17. Make Your Own Contoured Mask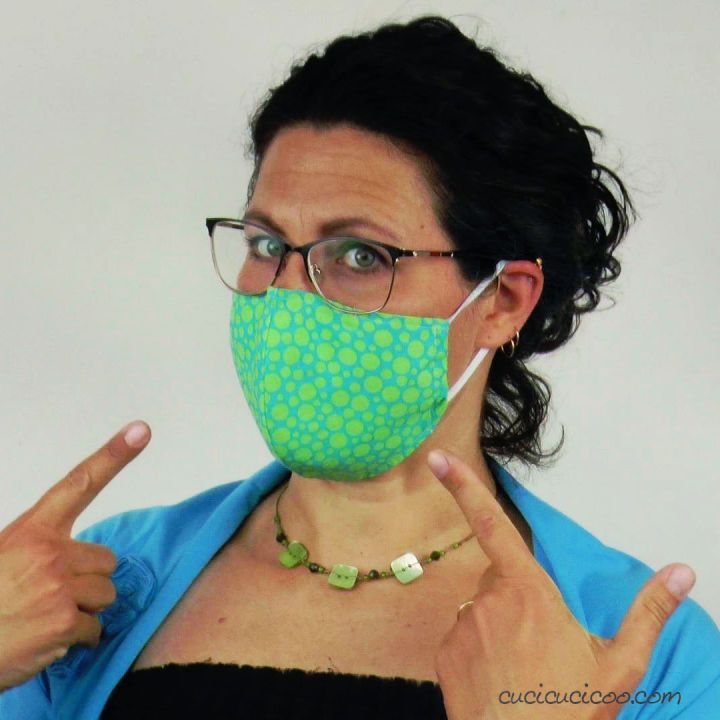 We all want to be safe from pollens and pollution, but it can be difficult to know where to start. Wearing a face mask is something that helps keep you healthy. Looking for a quick face mask that will also pair up beautifully with your outfits? Then time to sew a custom one at home and this easy sewing tutorial.
The pattern will allow you to sew 3 different mask sizes. The mask features a nose bridge and sharp boundaries all around. cucicucicoo
18. Best Face Mask Sewing Pattern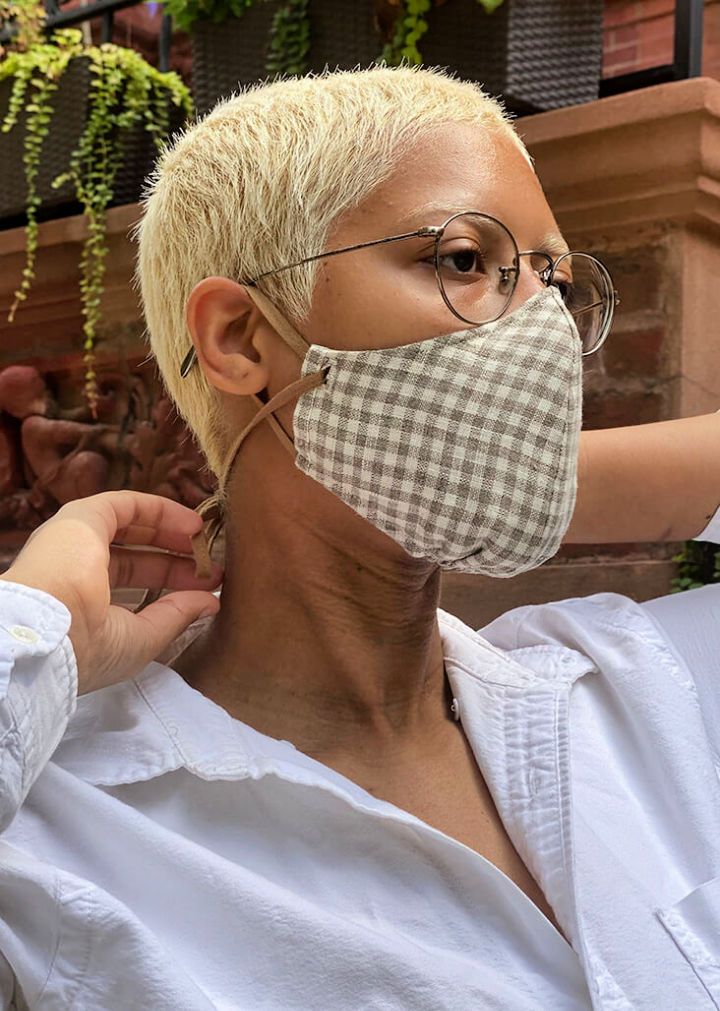 A mask is a big must-have for all who are careful about their health or suffer from seasonal allergies. Wearing masks is something vitally important during the Covid 19 pandemic. However, if you use the masks excessively, it can be expensive to buy loads of masks for your daily life routines. However, you can learn to sew a mask to sew all your old fabrics into adorable masks that will match your outfits too. Learn here to sew a reversible face mask that is much more visually captivating and will make an adorable handmade gift too.
You need tightly woven 100% cotton or linen fabric, wire, ¼" bias binding and sewing essentials to complete this mask sewing project. The project provides a free PDF pattern download for this mask. fabrics store
19. Cricut N95 Mask Cover – Free SVG Pattern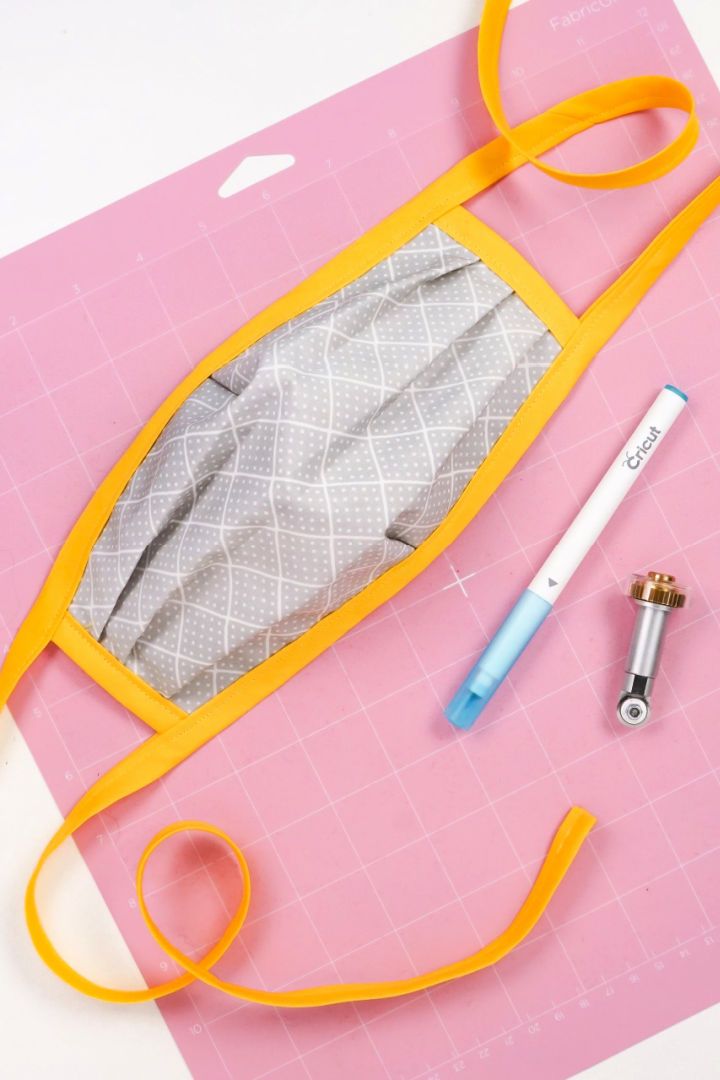 Unfortunately, governmental organizations and NGOs often cannot provide these masks in sufficient quantities when they are desperately needed, like during environmental disasters and other pandemics. This is where the DIY Cricut N95 mask cover comes in. This tutorial helps reduce the time and money needed to manufacture protective masks by creating a simple cover that can be cut with a simple machine like the Cricut to fit any standard N95 mask in under one minute. No more waiting for shipments when you can use your resources.
The project is Cricut based, and you will also get the free SVG file for the cover. heyletsmakestuff
Face masks are becoming more and more popular as the spread of coronavirus continues. Many people are looking for face mask patterns so they can sew their own face masks. There are a few different face mask patterns that you can use to sew your own face mask.
The first face mask pattern is a face mask with a pocket for a filter. This face mask pattern is simple to sew and requires only a few materials.
The second face mask pattern is a face mask with a nose wire and an adjustable strap. This face mask pattern is slightly more difficult to sew, but it will result in a better-fitting face mask.
The third face mask pattern is a face mask that has an elastic band. This face mask pattern is the easiest to sew, and it will result in a comfortable face mask. No matter which face mask pattern you choose, you will be able to sew a face mask that fits your needs.
20. Cloth Face Mask Pattern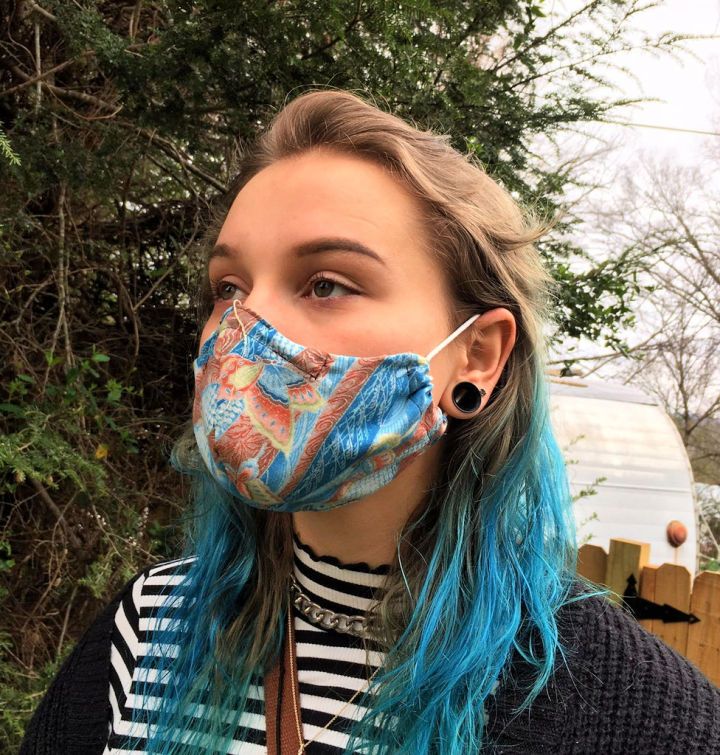 Want to make your cloth masks, but have no idea how to sew? Do you know how long it takes to research and find mask patterns for every type? Hours. And what if you go on a date night with your spouse and come back, only to realize that all the resources are gone? How frustrating. Don't worry, we have got you covered. This article will show you how to make cloth masks quickly and easily. You will be making beautiful masks in no time for friends and family.
Download and print out the free PDF pattern and cut the pieces to size. It will also guide you through sewing 2 different types of masks. instructables
21. Easiest Contoured Face Mask Pattern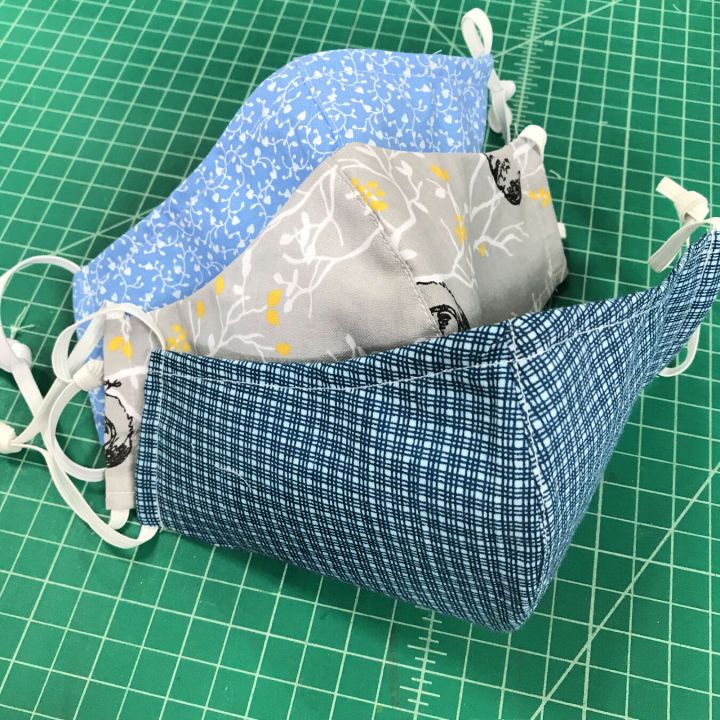 Everyone loves to be protected against viral diseases and seasonal allergies by wearing a mask, but no one wants to spend hours making a mask. So many people end up with an ugly, crooked, or unflattering mask that is not very recognizable as a costume. This DIY video tutorial teaches you how to sew a high-quality, perfect face shape mask in minutes. The mask design is simple and quick, and you can easily modify it for whatever costume idea you have in mind. The finished contour mask makes a sweet handmade gift also. 7pinedesign
22. How To Make A Fitted Face Mask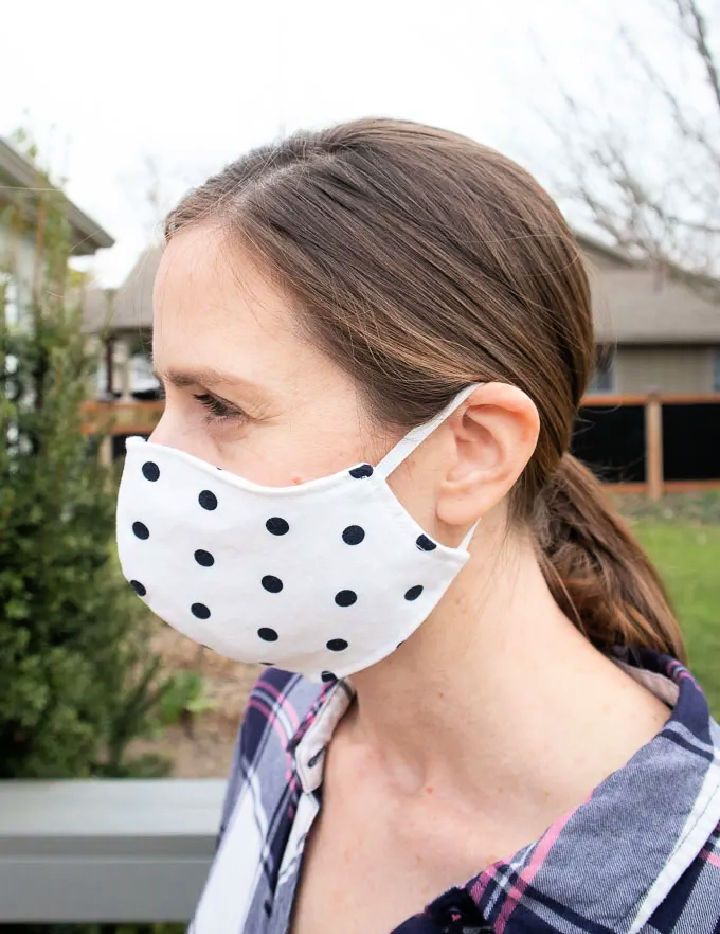 You know that feeling you get when your headache hits with enough force to hurt your brain, or your sinuses are so congested and stuffed that it's hard for you to breathe? Those are just a few of the symptoms of seasonal allergies. You can never find a good remedy or treatment because everything makes you feel worse. Wear a mask to not go into this embarrassing situation again. Follow this tutorial to quick sew your mask. So, don't put your health at risk again this fall or winter season. sustainmycrafthabit
23. How To Sew A Basic Face Mask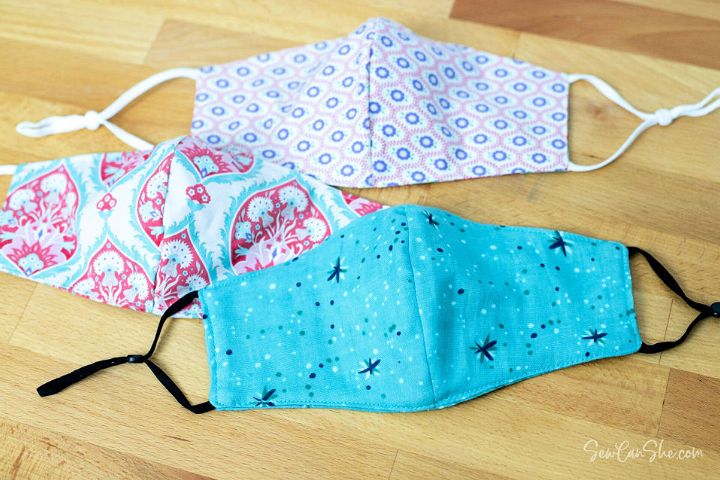 Want to fend off germs for the season? But sewing your mask can be hard and time-consuming. Sewing a face mask can be easy and tough at the same time. Lining up all the pieces and putting in the elastic is too complicated for our busy lives. Save a lot of time and learn to sew a mask with this easy sewing tutorial that takes minutes instead of hours to complete. You will learn how to add those adjustable elastics to help ensure a better fit. sewcanshe
24. How To Sew A Surgical Face Mask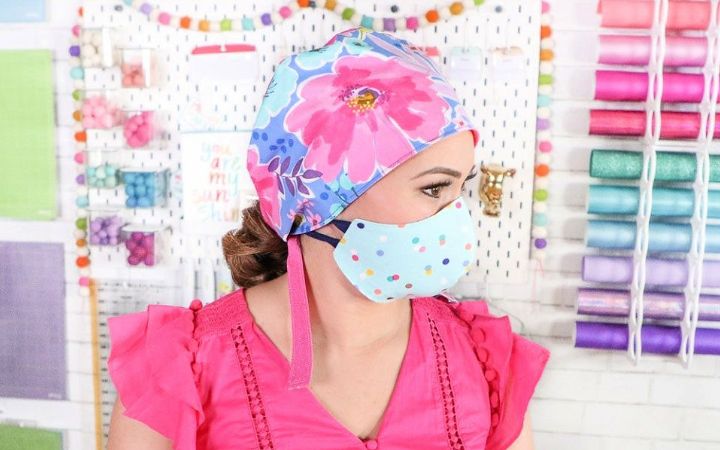 Finding the best sewing patterns on how to sew a surgical face mask? For the medical officers, surgeons and other healthcare workers, it is often necessary to wear a surgical face mask that will pair up beautifully with their scrub. This guide provides clear step-by-step instructions on sewing a surgical face mask, with illustrations, tips and tricks. In just a few minutes, you will be able to make your sustainable respirator at home.
Download the provided Free PDF pattern to easily sew this surgical mask. The pattern allows you to sew 2 sizes of the mask, adult 9" x 7" and Child 7" x 5"! sweetredpoppy
25. Olson Face Mask Pattern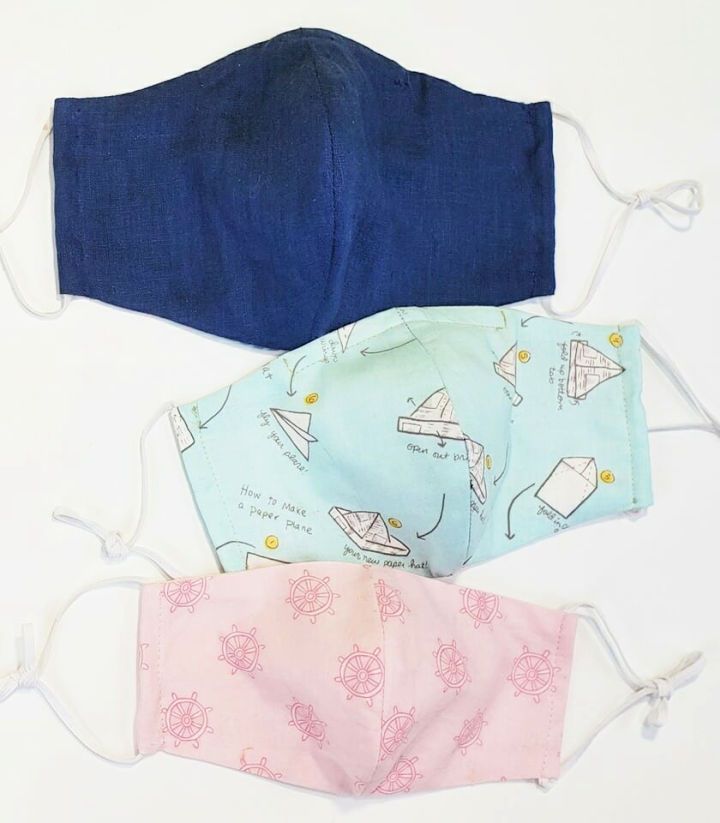 Olson masks are a great way to create personalized DIY gifts for any occasion. Doesn't your friend deserve the perfect handmade gift for the holidays? This easy and quick pattern is for those who want to take their sewing skills out for a spin. Though it is easy enough for beginners, this tutorial includes step-by-step instructions that will help you improve your sewing skills. Embellishments are optional but welcome.
The mask will work great for medical professionals to use in place of surgical and N95 masks. quiltforlovers
26. Sewing Face Mask For Kids And Adults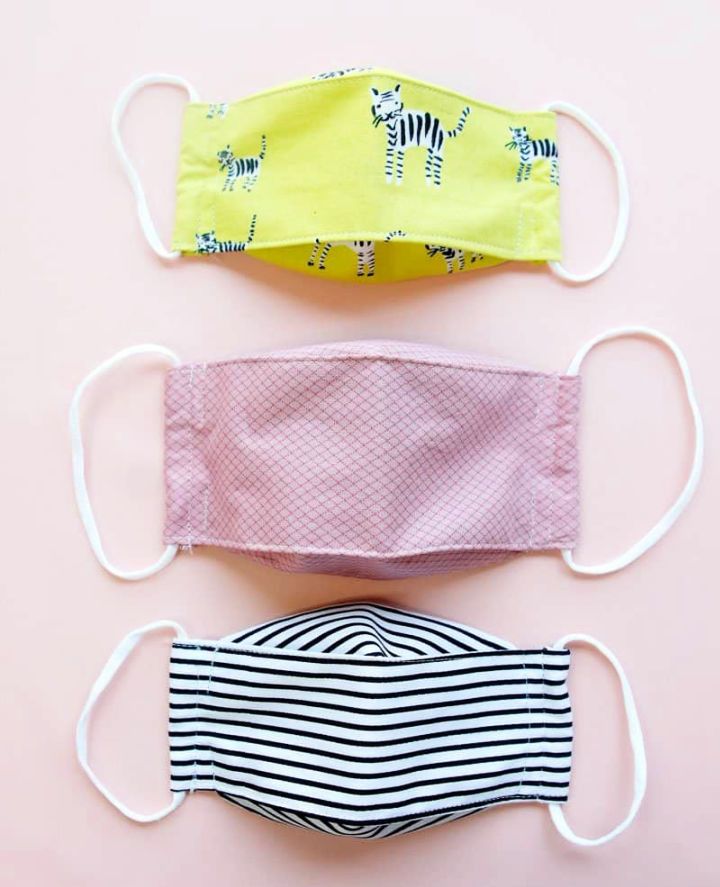 Many people want to learn how to sew a 3D face mask but have no idea where to start. This project provides a free template for sewing a 3D face mask. With step-by-step instructions and a downloadable template, you will make your own in no time. The finished mask will be highly comfortable and will rock for improved breathability. From toddler to adult XL, the template will allow you to sew 7 different sizes of the 3D mask. You will also learn how to sew masks with or without nose wire and get lots of additional tips and tricks. seekatesew
27. Printable Face Mask Sewing Pattern for Kids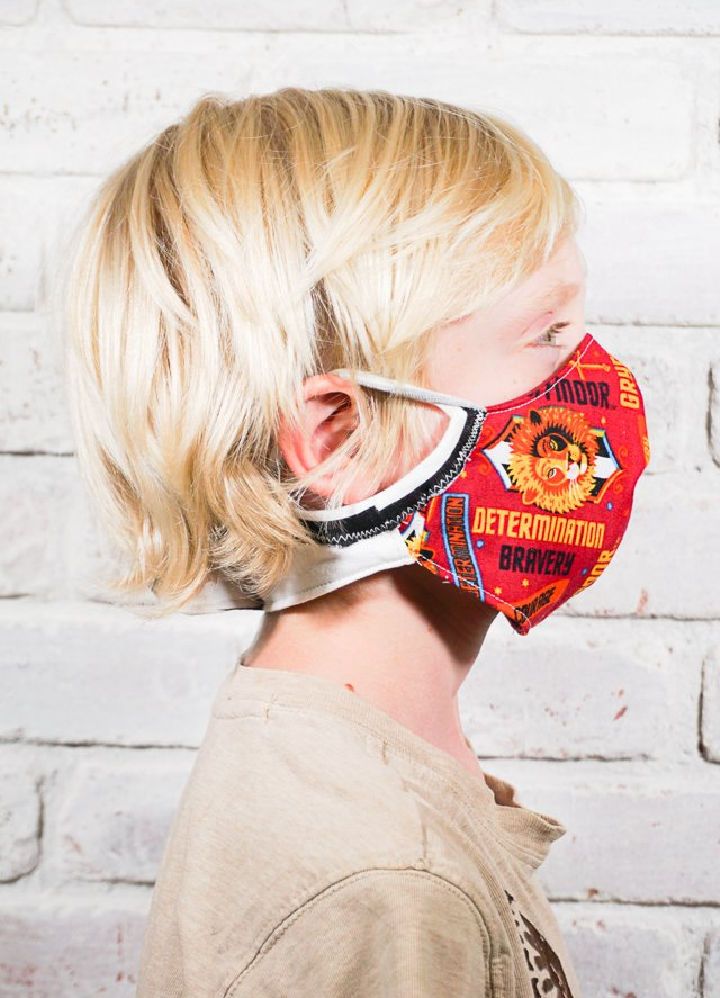 Many kids enjoy exploring their environment. Sometimes this includes sticking their hands in their mouth and touching things with their fingers. As a result, there is a need for children's protective masks to guard the chest and face from germs. The problem is, that most parents don't have time to sew a custom protective mask for every child. Grab the free pattern and instructions to sew a brilliant mask for the kids, sure to keep them safe from the fall, dry air and other air allergens.
The pattern will guide you through sewing mask sizes for 3-6 year old kids and 7-10 year old. heatherhandmade
28. Printable One Piece Face Mask Pattern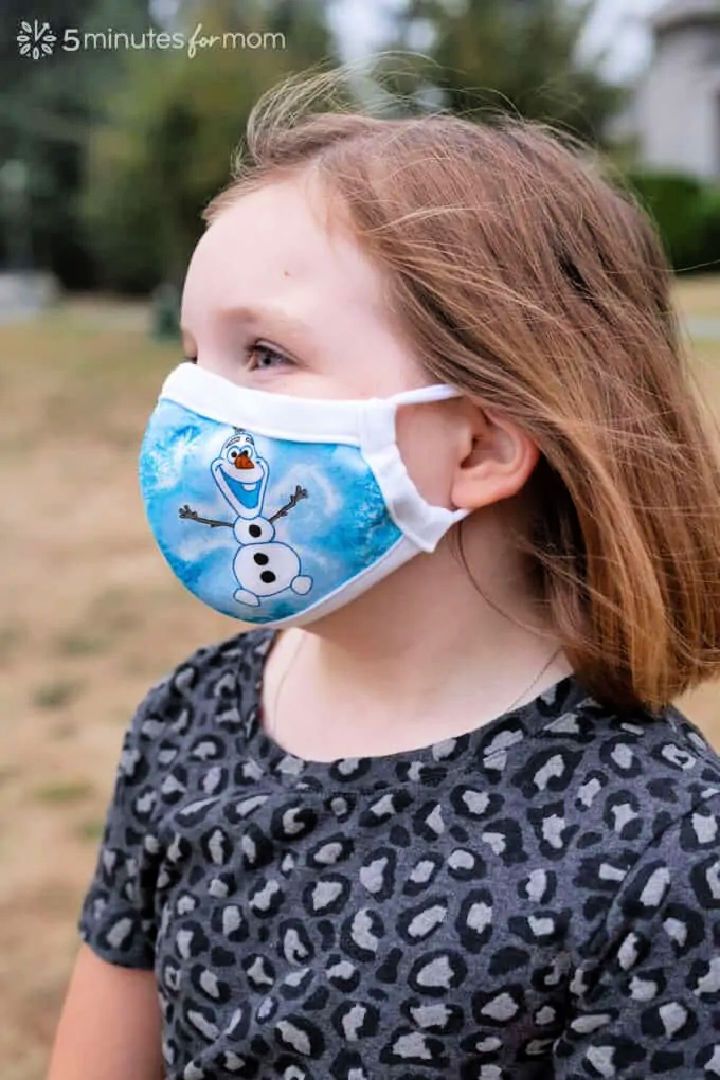 Do you mostly have fitting issues with the masks you often buy from the shops and stores? So, are you sorting out the best-fitting face masks that will completely protect against dust and debris? Then sewing your mask will be the smarter way to get one. Don't know how to measure your face and sew the best fitting mask? This free mask pattern is available as a free PDF download to learn to sew the mask in 9 different sizes, 4 adult and 5 kids sizes. 5minutesformom
Free Face Mask Patterns with Sewing Video Tutorials
Face masks are a great way to protect yourself and others from the spread of illness. A face mask sewing pattern can be quickly and easily sewn, making face masks a great DIY project. Here are several different face mask patterns available, and each has its own features. For example, some face mask patterns include a pocket for a filter, while others do not. Some face mask patterns are designed to be reversible, while others are not.
Choosing the right face mask pattern is an important first step in sewing face masks. Once you have selected a face mask pattern, you need to print out the pattern and cut out the pieces. Then, you will need to Sew the face mask together, following the video instructions in the pattern. Remember to wash your face mask regularly and to replace the filter if your face mask has one.
29. Free No Fog Face Mask PDF Pattern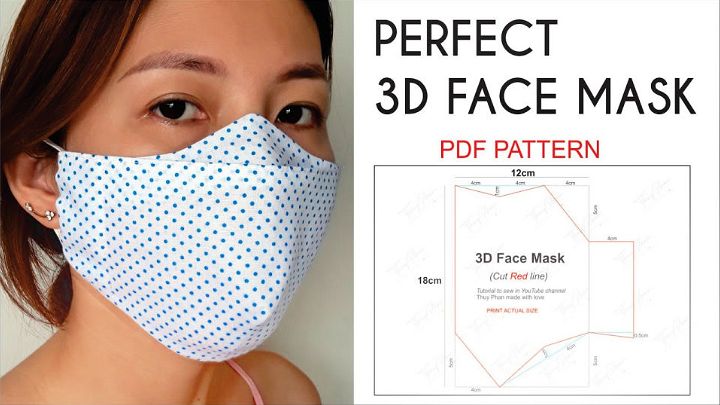 Ensure better self-defense against viral diseases and seasonal allergies by wearing a mask. The winter is about to come, and you just definitely add some quality masks to your closet if you are prone to fall dry air and allergies. However, you can also use some fabrics to sew your beautiful masks at home without getting expensive. This complete step-by-step video tutorial will provide total help in doing that. It will allow you to sew the best-fitting 3D masks that will be too comfortable to wear for the whole day.
The project also provides a free PDF pattern download.
30. Sewing Large Size Face Mask For Men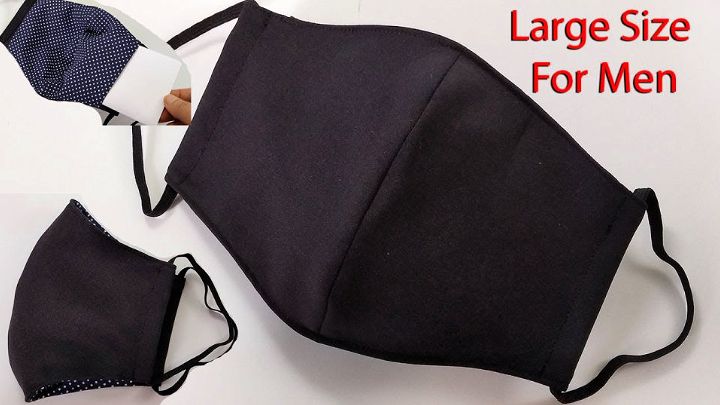 Many masks are only made for women, but men need these too. All those men want to protect themselves from the harsh winter and cold but can't find a mask that will fit them.Here is a tutorial on how to sew your large-size face mask for men. The finished face mask will come with a filter pocket, and you can also decorate it more in the way you like. It will be the best gift to sew for your hubby, brother, father and even your lover.
31. How To Make An Extra Large Face Mask At Home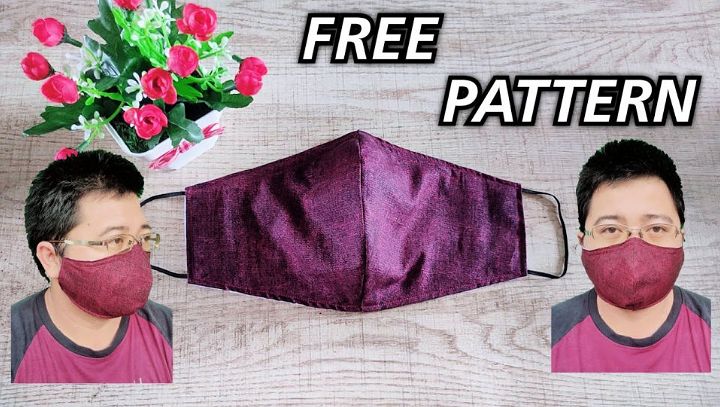 Colds, allergies, flu, and germs are not to be taken lightly. In the wintertime, it becomes much more important to wear one. Wearing a mask is one of the most effective ways to ward off colds and germs, but it can be uncomfortable to wear a mask if it is too tight or too loose. This DIY tutorial will guide you through the process of how to sew a large-size face mask for men. It will require much less fabric, and you can even use the fabric scraps to sew this mask.
32. DIY Face Mask With Filter Pocket And Nose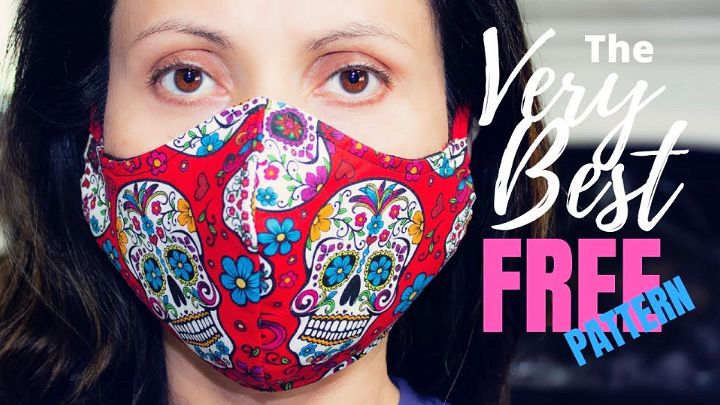 The average person doesn't know how to sew or have the time to learn. As a result, they can't make the best-fitted fabric face masks that will be comfortable to wear and compliment the outfits. People looking for a way to protect themselves from respiratory risks like dust, airborne bacteria, and pollens should have some masks in stock. Want to sew some best-fitted masks at home? With this DIY how-to guide, you will learn how to sew your fabric face mask with a filter pocket and nose support. No more compromising on breathability or comfort when you need protection.
33. Medical Mask Cover Sewing Pattern
Are you a medical officer and love to keep a stock of masks to use every day? However, if you are a little expert in sewing, you can easily sew some best-fitting masks that can also be reused. Grab free step-by-step instructions to sew a medical mask cover, sure to keep you perfectly safe from viral infections and the pollen away from your nose that causes allergies. The project provides a complete tutorial and free sewing pattern to sew the medical mask like a pro. It will make a great handmade gift for a medical officer or healthcare worker.
34. Sewing Mask For Hospitals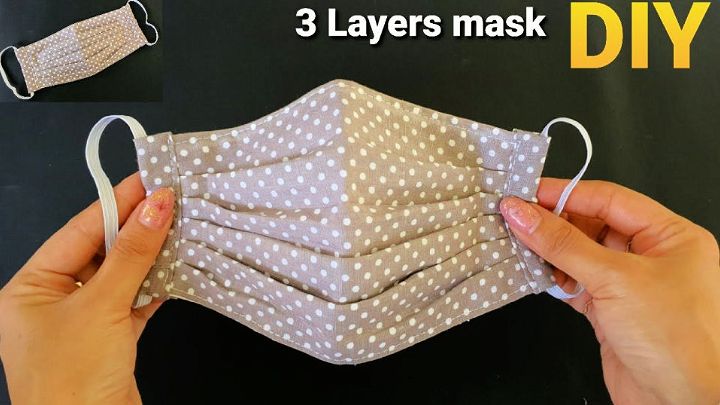 Many people have turned to masks as a solution for respiratory illnesses and infections. However, wearing masks can be an uncomfortable experience. No one wants to feel suffocated, overheated, or claustrophobic, especially when sick. This is mostly the case with face masks when you are not getting the right fitting. So, follow here easy tutorial and free pattern and learn to sew the best-fitting mask with 3 layers. You can use your favorite clothes to sew this mask, which can also be packed as a sweet handmade gift.
35. Simple Mask Pattern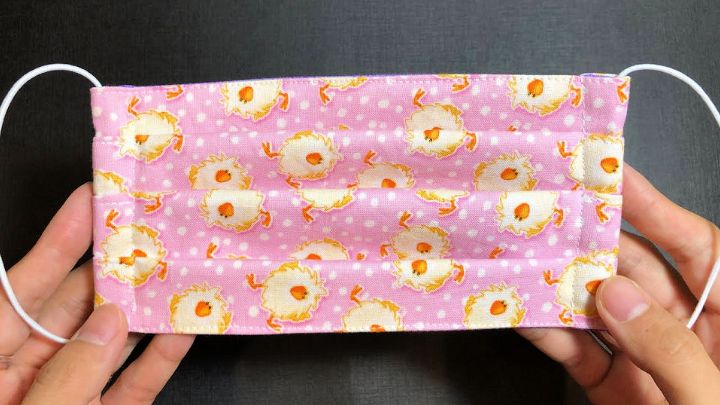 Pollution is a serious problem that cannot be ignored. But what can we do about it? One thing we can do is to protect ourselves and not let pollution get the best of us. Combining high-tech with old-school knowledge, we have come up with a 3 layer medical mask that filters all the dust and debris particles. With our 3-layer medical protection masks, you can protect your health from pollution and viral infections in hospitals and clinics. However, you will get here a complete video tutorial and free pattern to sew this mask.
36. Make Fabric Face Mask At Home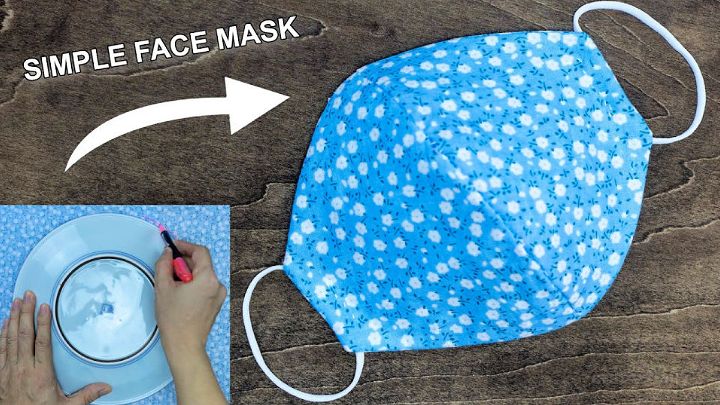 The DIY Fabric Face masks are the perfect way for people to create unique, customized looks for themselves. There are so many fabric options and ways of creating the mask that you can make something one-of-a-kind for yourself. Show your personality with custom fabric masks and protection against fall, dry air and pollens. Even if you are not an expert in sewing or have never been around a sitting machine, you can still make a lovely-looking mask at home with this no-sew face mask tutorial.
37. Very Easy New Style Mask Pattern For Adults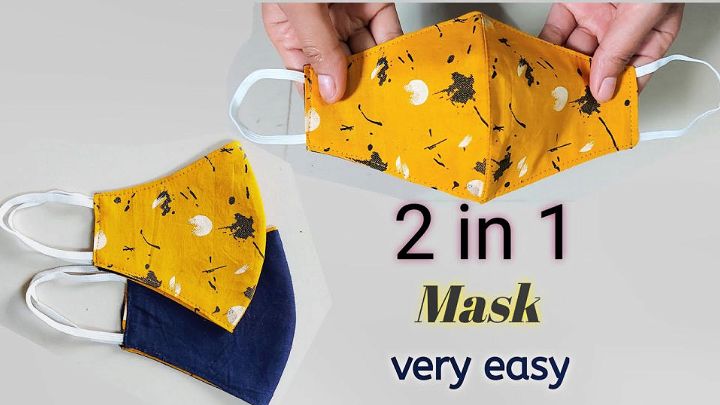 Are you new to sewing face masks at home and want complete know-how? Then this video tutorial will be the ultimate solution and guide to learn sewing a mask. The tutorial will allow you to sew every fabric scrap into a beautiful mask, lowering your expenditures. Moreover, sewing your masks at home will be a smarter strategy to come out of the Covid-19 pandemic. Another great and easy sewing pattern and tutorial to easily sew a face mask at home without getting expensive.
38. How To Make A Simple Fabric Face Mask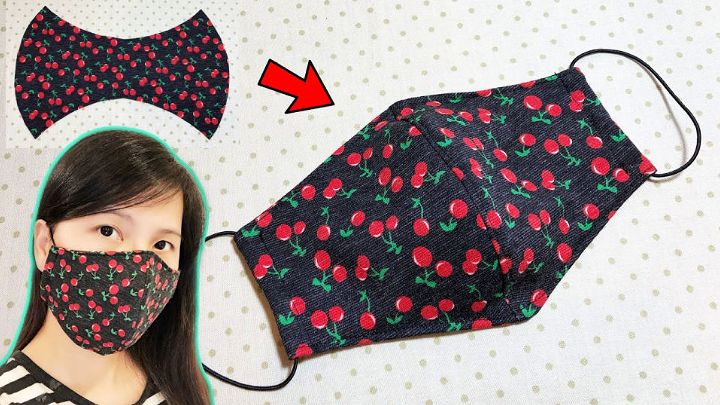 The fabric mask is a simple and inexpensive way to protect your lungs from airborne chemicals, dust, and fumes. The masks are made from various materials, including cotton, polyester, or nylon. Fabric masks can be sewn with a sewing machine or by hand. This article will show you how to sew a mask with the help of a sewing pattern that is available for free. The finished mask will make a sweet handmade gift for a friend, a medical officer, and a healthcare worker.
39. Face Mask Sewing Tutorial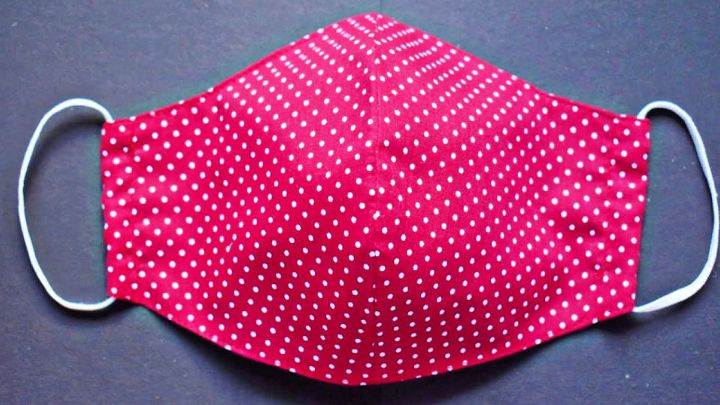 The fabric masks are inexpensive, easy to make, and comfortable to wear. You can make one with a free pattern that you can sew on your sewing machine or by hand. So, grab another free pattern and tutorial for sewing a quality fabric mask that will be lightweight, breathable and easy to wash. It will be an important layer of protection for those who work in high-risk environments. Everyone will love to add this new style face mask to his closet or fashion wardrobe, makes a sweet handmade gift also.
40. No Fog On Glasses Easy 3D Face Mask Sewing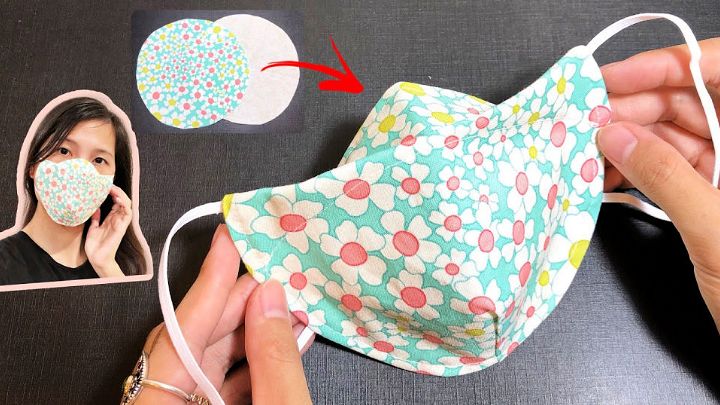 This step-by-step tutorial will teach you how to sew a mask with a free pattern. It is an easy project that can be done in less than an hour. The fabric mask protects your face from the harmful dust and dirt in the air. It can be worn while gardening, cleaning, or doing other household tasks. At the same time, you will get instructions to sew it to a perfect fit and be lightweight, comfortable and stylish.
The project provides a free pattern download. You can also use the old t-shirts to sew this fabulous mask.
Related Free Sewing Patterns
Free Maxi Skirt Patterns: Fun & Easy to Sew
Sewing a maxi skirt is a great way to add fun and color to your wardrobe. These free maxi skirt patterns are easy to sew and can be made in various styles and colors.
Free Swimsuit Sewing Patterns for Everyone
Looking for a free swimsuit sewing pattern? Look no further! We've gathered a variety of free bikini patterns for you to choose from. You got covered whether you're looking for a one-piece or two-piece swimsuit.
Free Top Sewing Patterns for Women and Girls
If you need a new sewing project, look no further than these free top sewing patterns for women and girls! These top patterns are perfect for all skill levels and include a variety of styles and designs.
Free Wrap Top Patterns
There are a variety of free wrap top patterns to choose from, making it easy to find the perfect style for your body type and preferences. With so many options, you're sure to find the perfect wrap top pattern to sew up a comfortable and stylish wrap top that you'll love to wear all season long.
Free Crop Top Sewing Patterns
Check out these free crop top sewing patterns if you need a new crop top! With a variety of styles to choose from, you're sure to find the perfect one for your wardrobe.
Free Sewing Patterns For Shorts
Looking for free sewing patterns for shorts? Look no further! These easy-to-follow shorts sewing pattern will help you sew a stylish pair of shorts in no time.
Free Dress Patterns for Girls and Women's
Looking for free dress patterns for girls and women? Look no further! We've got a wide selection of free dress patterns for sewing, including dresses for every occasion.
Conclusion: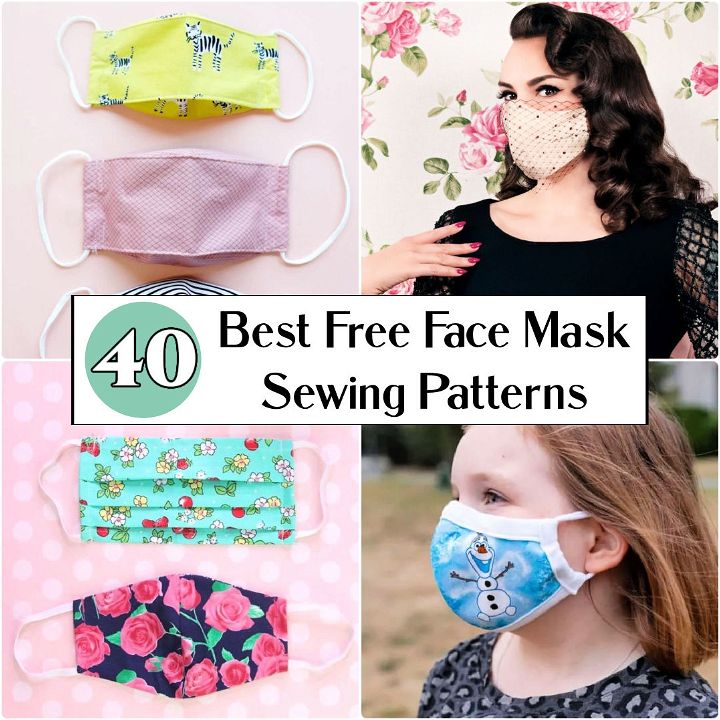 In the pandemic conditions like Covid-19, wearing a mask is crucial and buying some masks from the stores can be super expensive. So, these free face mask patterns will allow you to sew lightweight, stylish and breathable masks at home with the best fits. This free face mask pattern guide will also share complete material lists, supplies, detailed template diagrams and step-by-step PDF instructions to easily sew the desired FACE mask design like a pro. With the help of these face mask sewing patterns, you will be able to sew face masks for friends and the whole family without spending too much from your pocket. So, go through all these face mask patterns to master the art of sewing masks at home.