Looking for some easily doable maxi skirt patterns? Learn how to sew a maxi skirt with these 25 free maxi skirt patterns that are easy to sew. This long skirt pattern is perfect for beginners. Maxi is a type of dress that falls to your ankles or even the floor. Although maxi is a type of casual dress, it can be refashioned to make do for a formal event as well.
These maxi skirt patterns are a treat for everyone who likes to wear these types of dresses. Every type of body type looks good in a maxi as they're the ultimate symbol for feminine clothing. These tutorials are just the thing most of us need to fashion the most stylish-looking maxis.
With the help of these 25 free maxi skirt pattern tutorials, upgrade your wardrobe and come out looking like a fashion diva. People who know how to carry a maxi look glorious and are the center point of every gathering. With a little sewing and stitching experience, you can now work out the best-looking maxi from these long skirt pattern tutorials.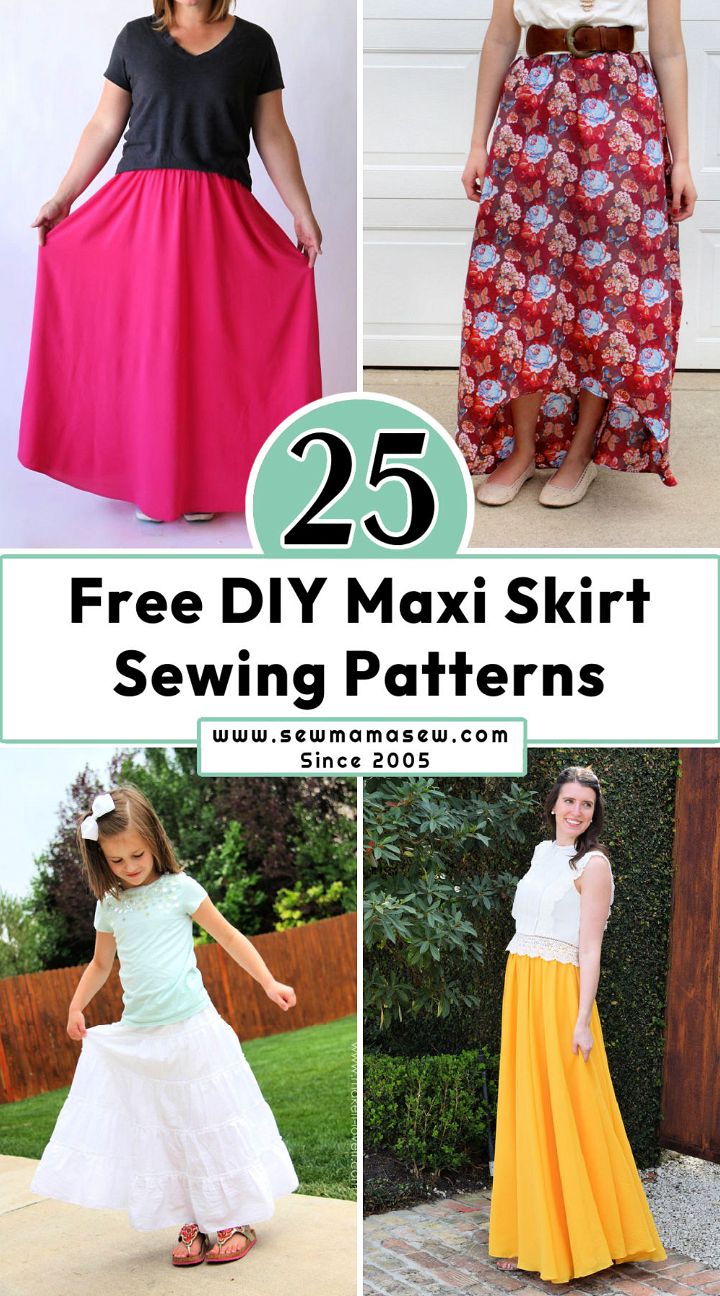 Making something out of your hand is both very rewarding and easy on the pocket. Therefore, making things from ¼th the price is better than going through expensive store items. You can also make them fit exactly according to your height and figure, bringing out the best in your looks.
1. How To Sew A Hi Low Maxi Skirt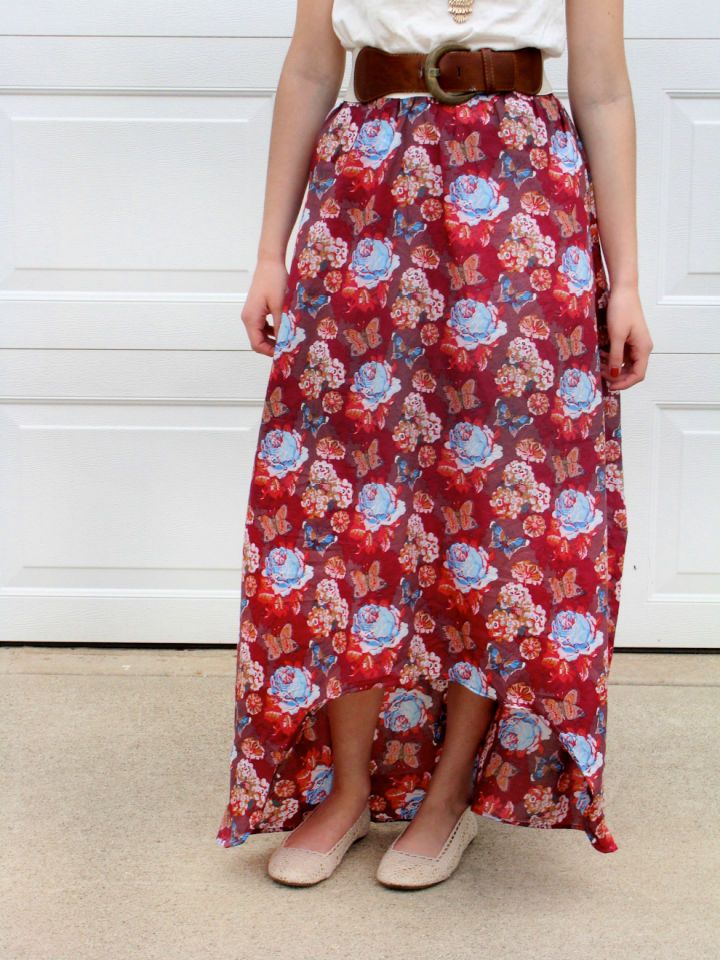 Starting with a high-low Maxi skirt tutorial. You will need 2-4 yards of fabric, paper to draft the pattern on and elastic. Start with the measurement of your waist and hips. Add a 1" for the hem and 1" for the elastic. Mark out the different dimensions on the paper and use that to cut out the fabric. It looks amazing! bramblewood
2. How To Sew Flowy Skirt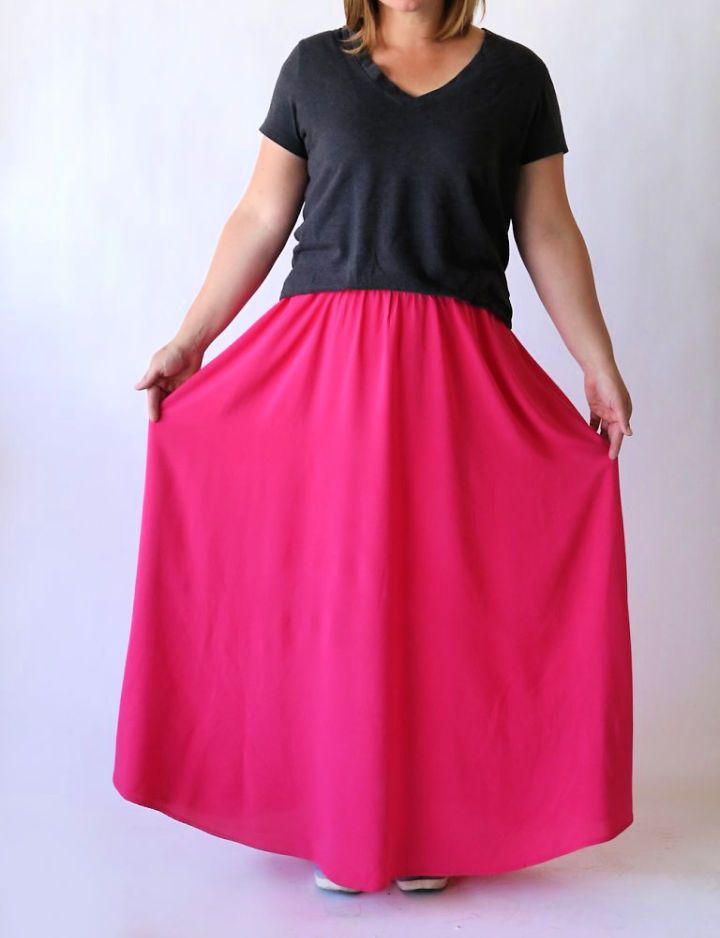 Make a maxi skirt for everyday use! This would be perfect for a hot summer day as it is made from lightweight fabric. It also has a wider cut at the bottom for maximum comfort. The waist is made from an elastic material, and the skirt itself is just made from two pieces stitched together. Quite easy! itsalwaysautumn
3. Chiffon Maxi Circle Skirt Sewing Pattern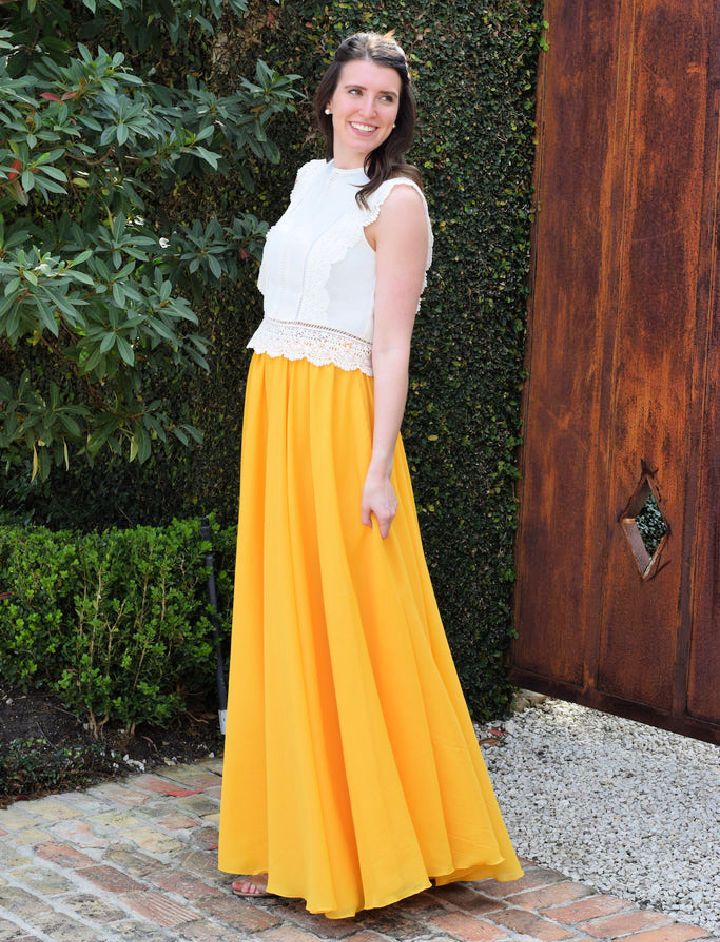 A very pretty chiffon maxi circle skirt. It is simply made up of two layers of fabric sewn together with a thick elastic. The trick is to cut chiffon layers so that it has a wavy look. You can also use a thin needle to go through the fabric very smoothly. It will take approximately 5-6 hours to make. fabricwholesale
4. Tiered Maxi Skirt Sewing Pattern For Girls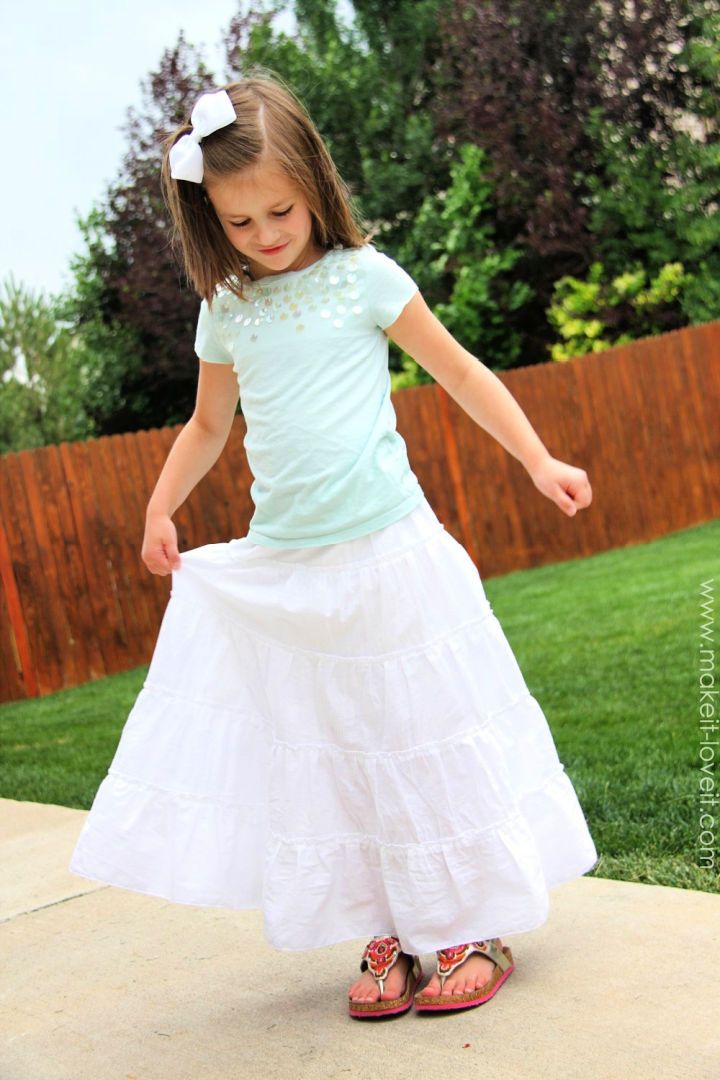 Make a gorgeous tiered maxi skirt for girls. First, you have to decide the length of the skirt and split the measurement into five parts. That would include the waistband, overlap, and hem. Each layer would be wider than the last. You can add lining under the fabric too. Sew the sections together ¼ inches from the top. makeit loveit
5. How To Sew A Maxi Skirt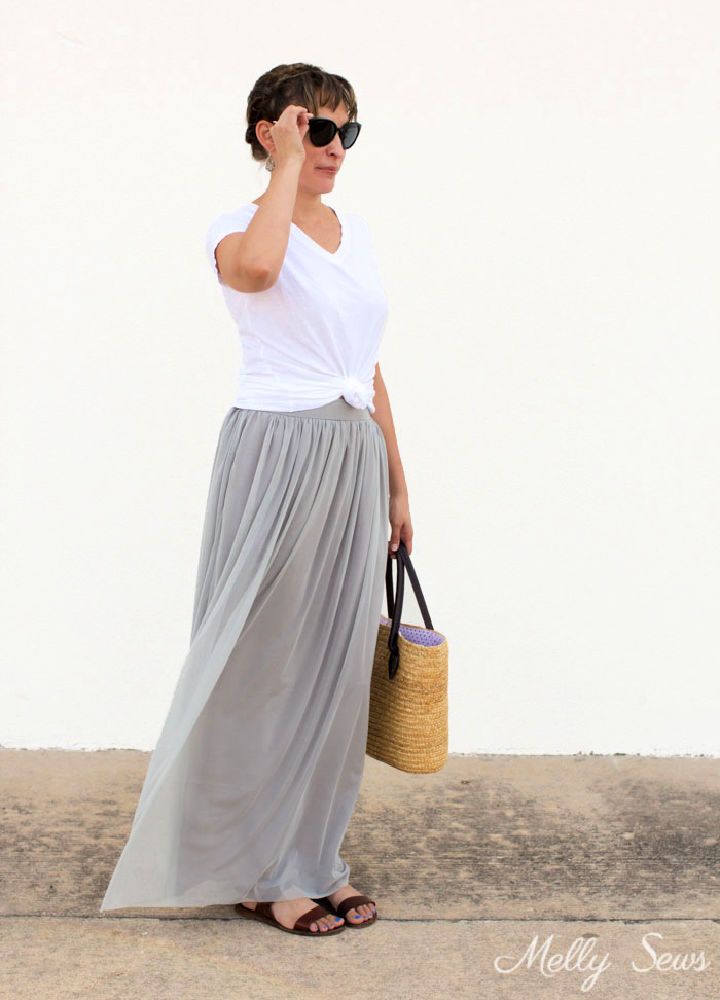 This is a flat-front maxi skirt with a neutral color. For this, you will need some sheer fabric, lining fabric and 11/2-inch-wide elastic. Measure your hips to determine the width and length of the skirt. It will have a total of 7 pieces before stitching them all together. That's it! mellysews
6. Free Maxi Skirt Pattern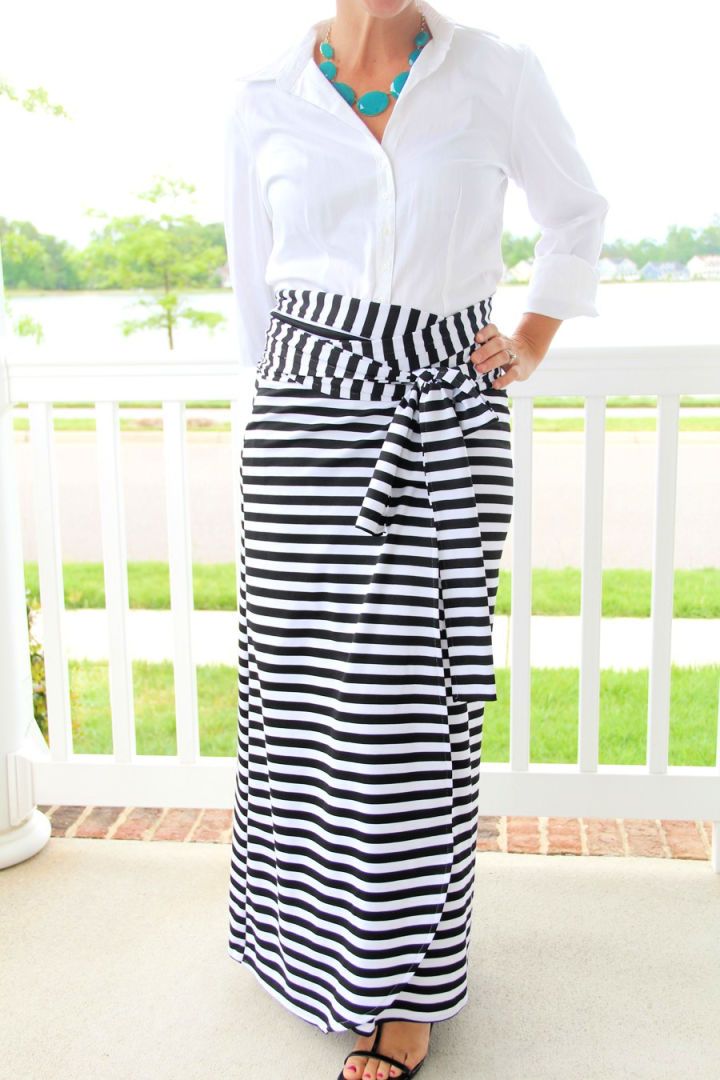 A perfect warp maxi skirt with stripes. The materials required you can 2.5 yards of fabric, measuring tape and other basic sewing equipment. The waist will be 15" added to the circumference of the waist. Furthermore, divide the waist by 4 and cut the waistband into different pieces. These 4 pieces 3ill make the whole one piece for the fabric. Bottom hem the entire fabric by ½ inches. mesewcrazy
7. DIY Empire Waist Maxi Skirt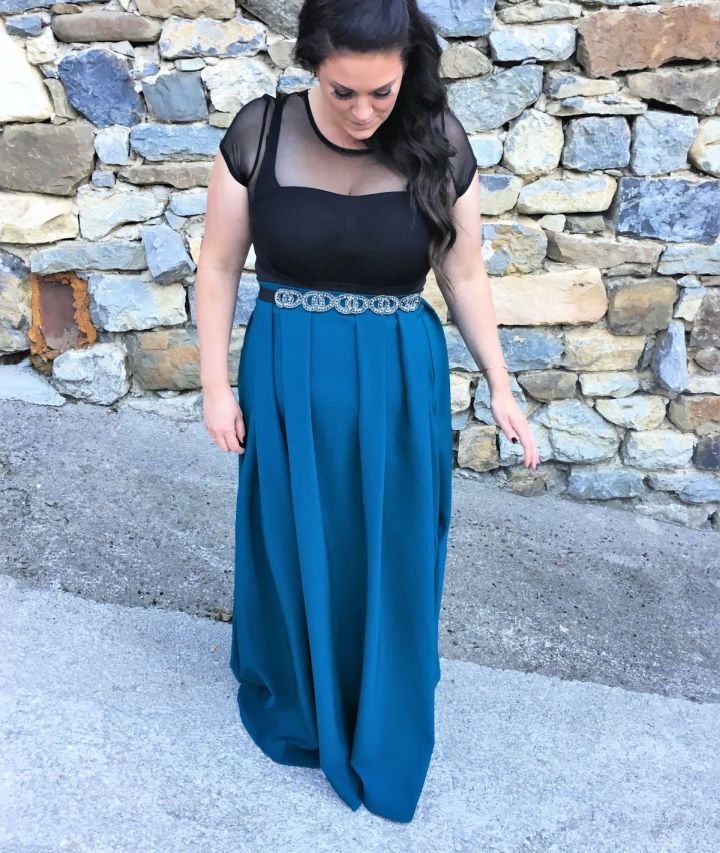 An elegant empire waist maxi skirt fit for weddings. The material required for this is heavy-weight fabric, an invisible zipper and coordinating thread. First comes the measurement of the body of the waist and length. Use some chalk to design the shape of the maxi and fold it in half to make sure it's symmetrical. Click on the link and get started! makingthingsis
8. How To Sew A Long Skirt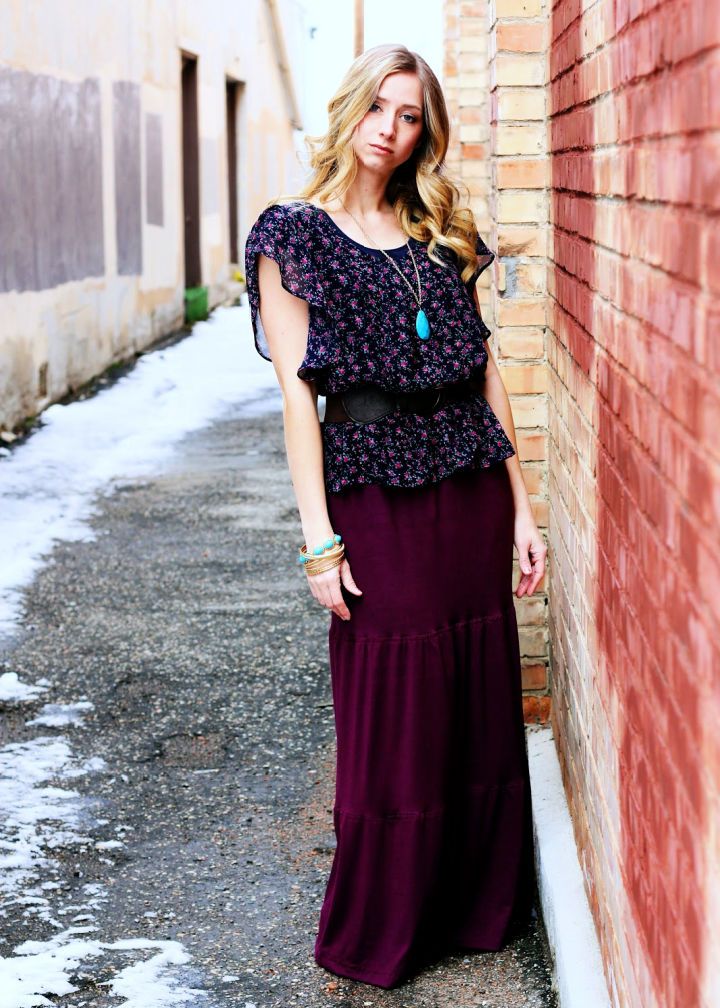 This in-detail tutorial teaches you how to make a maxi skirt easily. The supplies required are 1.5-2 yards of 60" wide knit fabric and 2" wide elastic. The skirt will be made with three panels, with the bottom panel 1" longer than the other two. The seam allowance for this skirt is ½" all over the skirt. sewmuchado
9. DIY Floral Maxi Skirt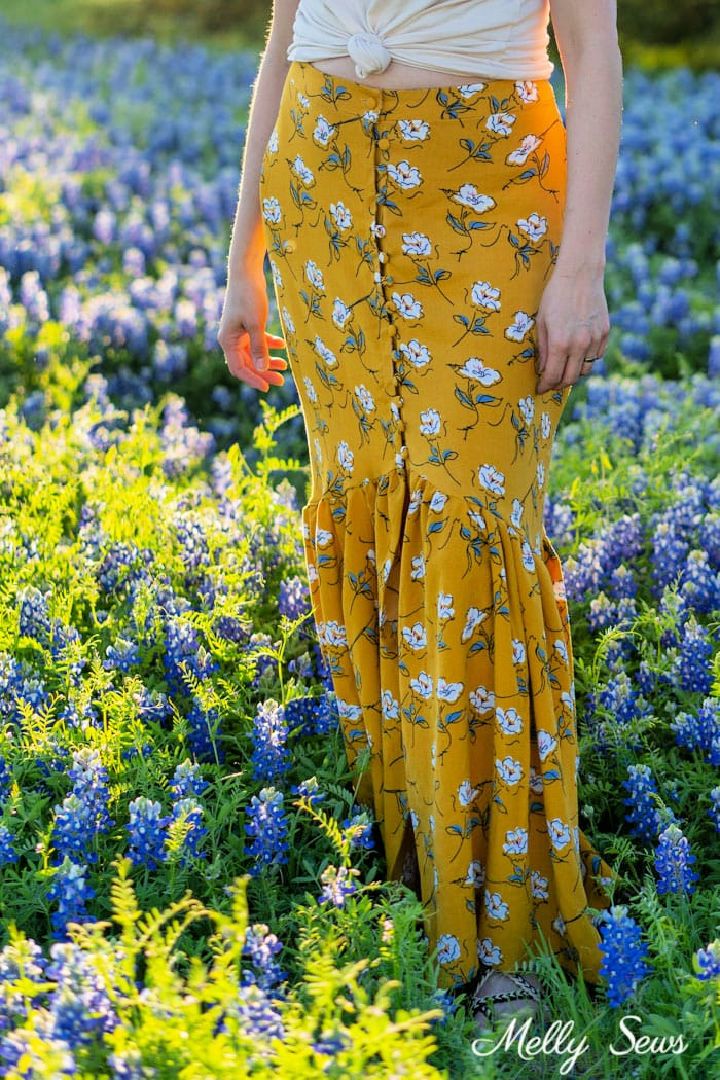 A nice floral maxi skirt that blends in with nature. This tutorial also has a video link to help you. It rocks buttons to the front that close up the skirt. Also, add side pockets to the maxi. The buttons can be made to be covered by fabric scraps to perfectly blend them in. mellysews
10. Pleated Maxi Skirt Pattern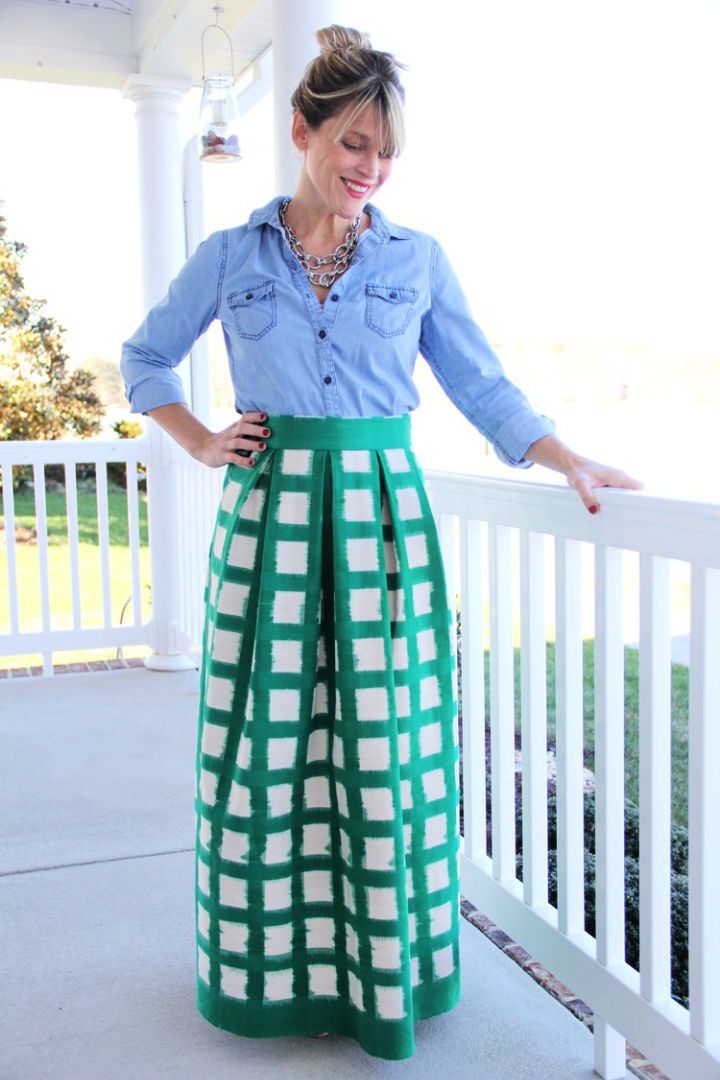 Try out a lovely Ikat gingham Maxi skirt with this tutorial. What you'll require to make this will be 2-2.5 yards of some medium-weight fabric, an invisible zipper, measuring tape and other basic sewing tools. The skirt has a beautiful green and white pattern design that can be used as casual as well as formal attire. mesewcrazy
11. Ruffled Maxi Skirt With Elastic Waist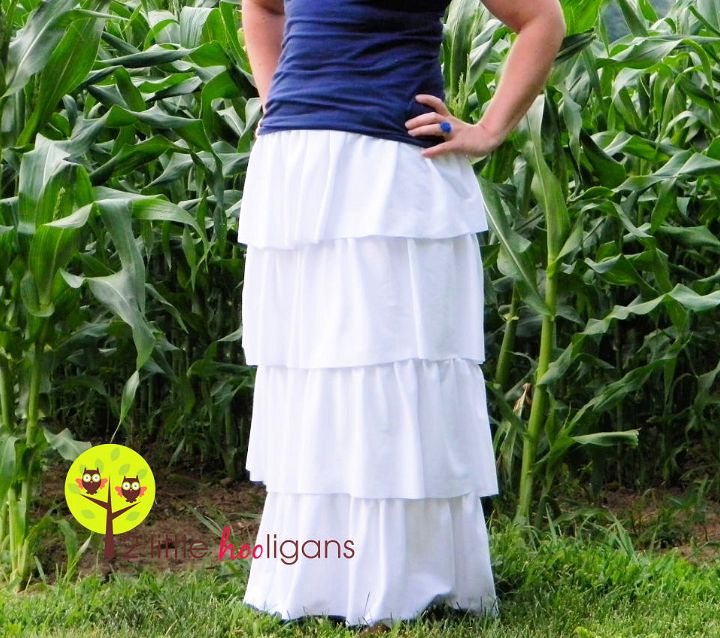 Ruffled maxis look great if made the correct way. This one would take 3 houses to make with 3-4 yards of white cotton knit and 1 yard of wide anti-roll elastic. Use another long skirt that you already use to act as the template for this one. It has ruffles placed after every 8 inches in four rows. Marvelous! 2littlehooligans
12. Sewing A Maxi Skirt With An Elastic Waist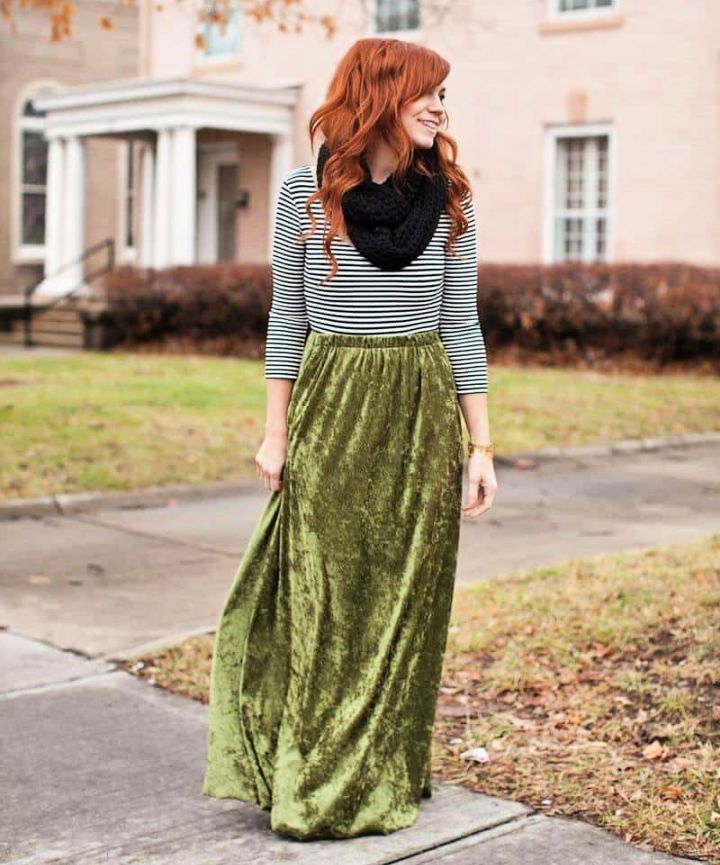 A maxi skirt tutorial with elastic waist. The fabric can be medium-weight cotton, elastic, and other tools. Measure your actual waist and add some inches to it to account for the elastic that will be placed in it. Stitch the elastic together in the waist and hem the bottom with correct measures. abeautifulmess
13. Long Lace Skirt Sewing Pattern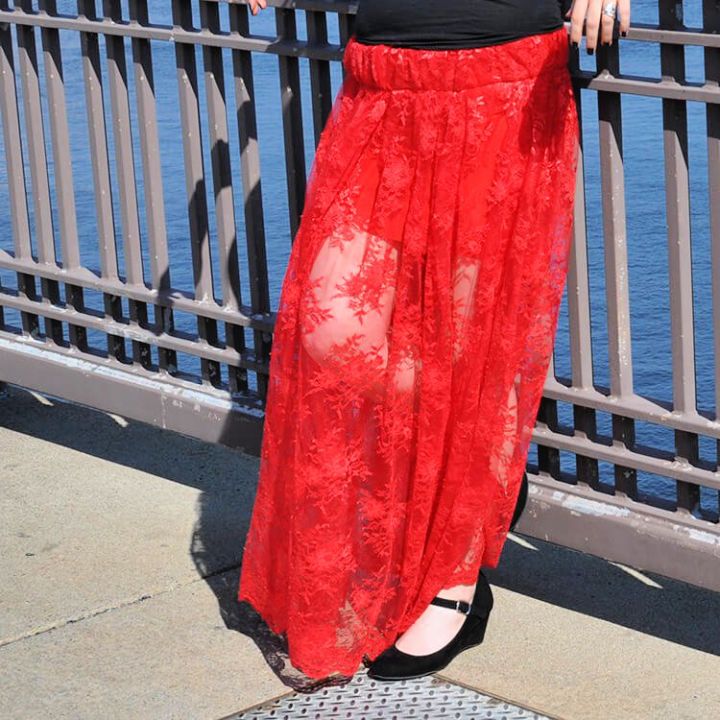 A lace maxi skirt suitable just for your summer and spring days. You can get all the material for this on the internet. Just start with measuring and cutting the fabric so that it is easy to pleat and sew the lace. Lastly, just place the spandex lining and elastic for the complete look. onlinefabricstore
14. Sequin Maxi Skirt Sewing Pattern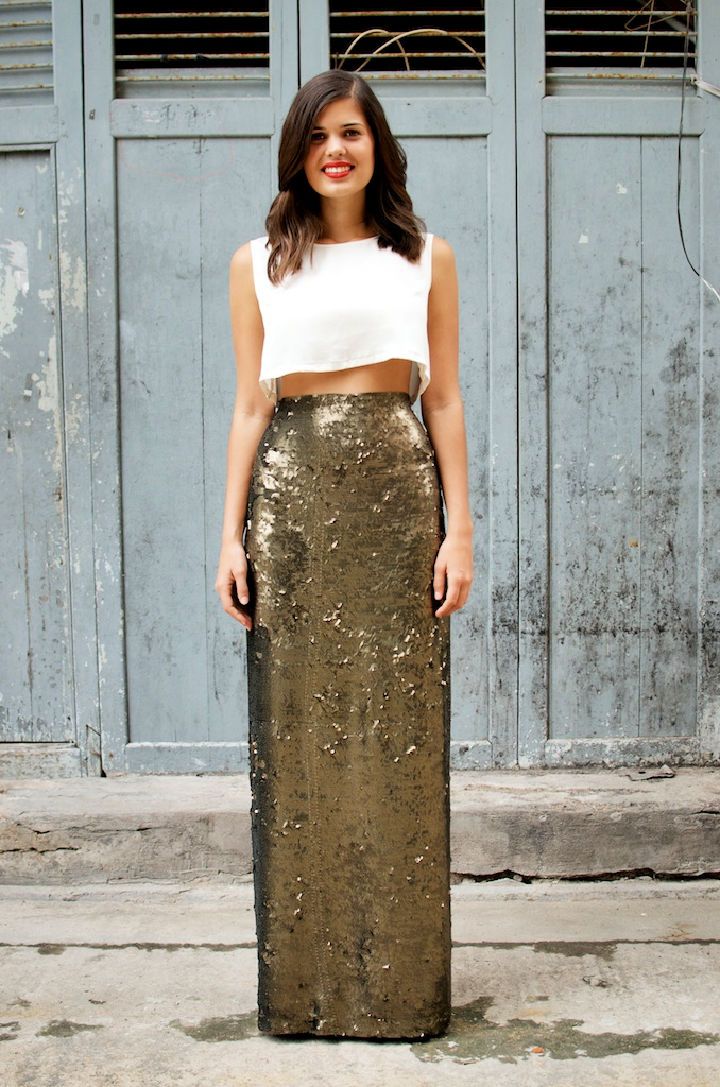 A sequin fabric maxi looks stylish enough to be the main dress of an event. It can be designed with velvet ribbon, snap buttons and instant bond sewing tape. The pattern is easy to replicate with the right fit for the body. The ribbon and snap buttons help it stay firmly in place. Open the link now! collectivegen
15. White Lace Maxi Skirt Pattern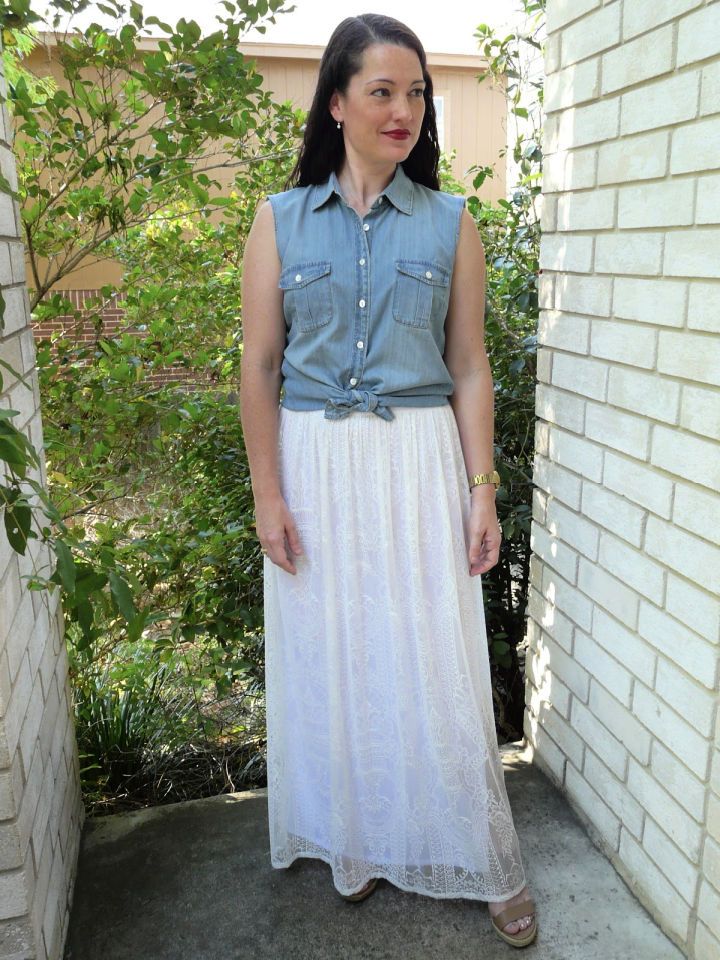 White lace maxi skirt that looks heavenly! This skirt falls right down to the feet. It has only one seam at the back. The lace hem is stitched by hand in place. For this maxi, the ribbon is 3 inches wide and has a small zipper at the center to close it all up. A relatively easy one to make. amandasadvent
16. How To Sew A Maxi Skirt For Summer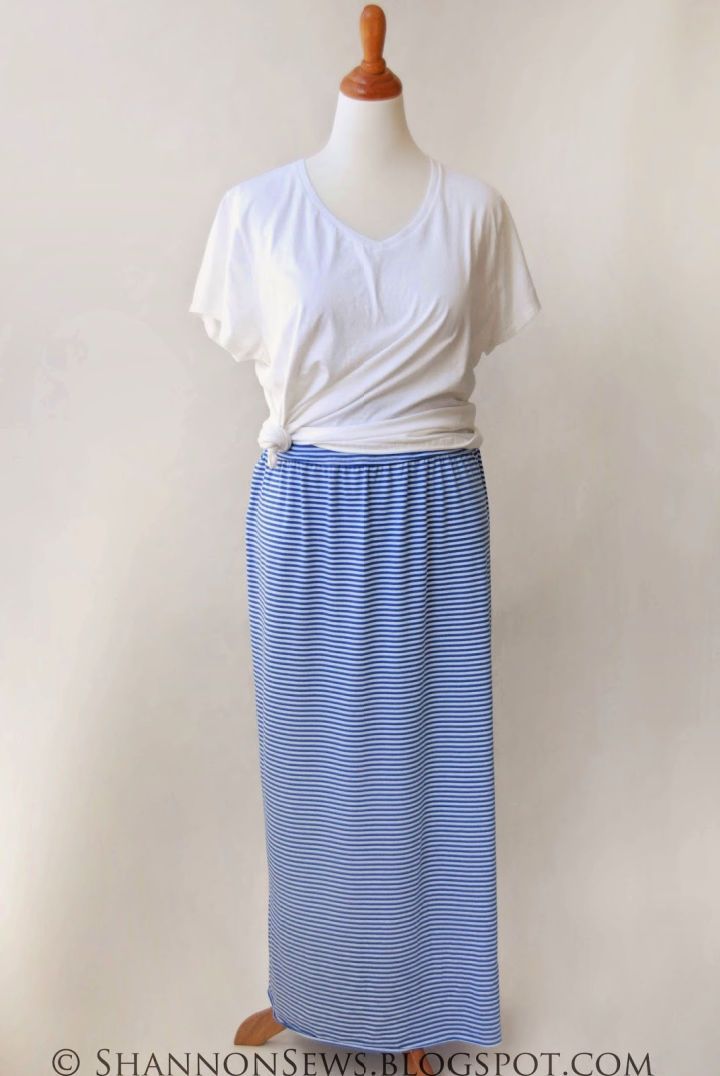 This is a cute maxi skirt for the summer season. It has a nice striped pattern all over it. Moreover, it is designed to be made with an elastic for easily sewing it. It has two side seams and a 6-inch waistband but can differ according to your measurements. You can leave the bottom unhemmed for a flee flowy texture. shannonsews
17. Simple Vintage Long Skirt Pattern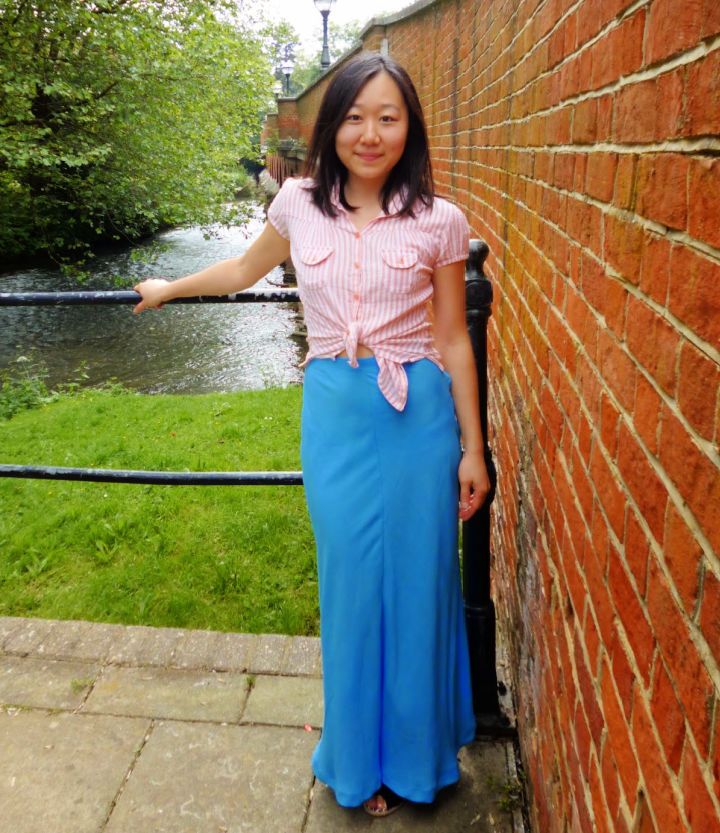 A really simple maxi design that has a vintage pattern. It should be noted that the tension in the fabric should be very low. It has a pretty sky-blue color with side seams. This skirt has a couple of problems with the side bulging of the seam. This is not even that noticeable, and the maxi looks fine with it. That's it! queenofdarts
18. Maxi Skirt With Pockets Project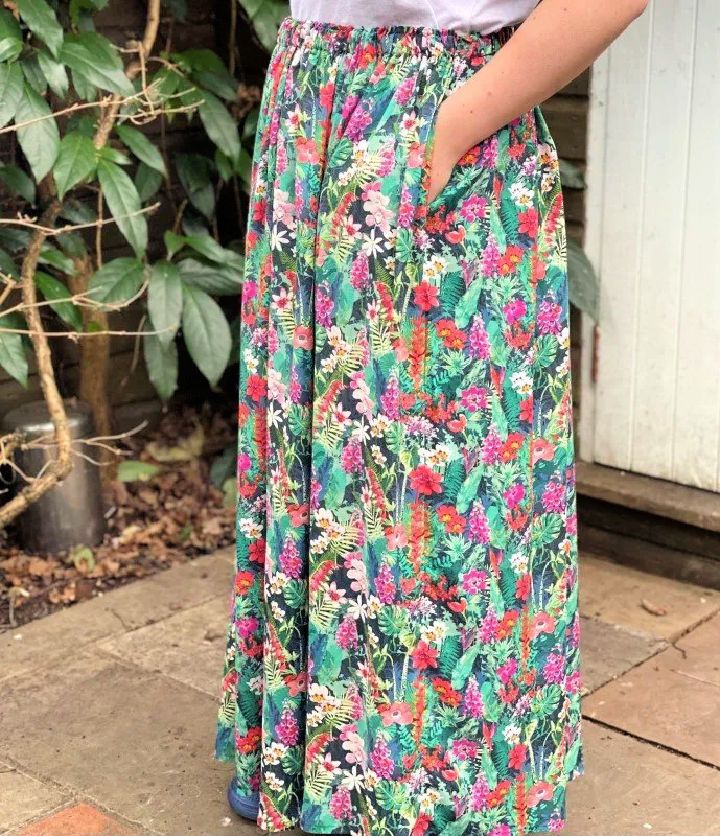 Design a maxi skirt with side pockets! It can be made with 2-3 meters of fabric, elastic 2 cm wide and a sewing machine. The fabric should be nice and soft, with lovely side pockets coming out with a seam on all four sides. The bottom would have a double hem. Open the link to get started! thesewingdirectory
19. How To Make A Maxi Skirt With Elastic Waistband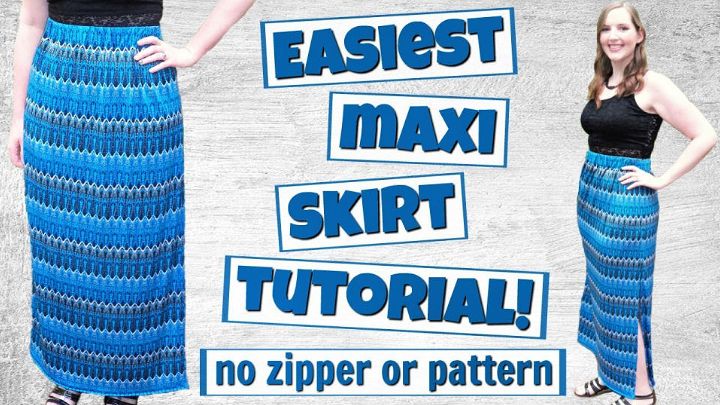 A nice flowy maxi skirt pattern with an elastic waistband. This one uses a stretch Fabric because it is really comfortable. ½ inches of elastic will also be needed 5" more than your waist measurement. Use a zig-zag stitch to hem the bottom. Click on the link and see how it looks!
20. Tulle Maxi Skirt With A Hidden Zipper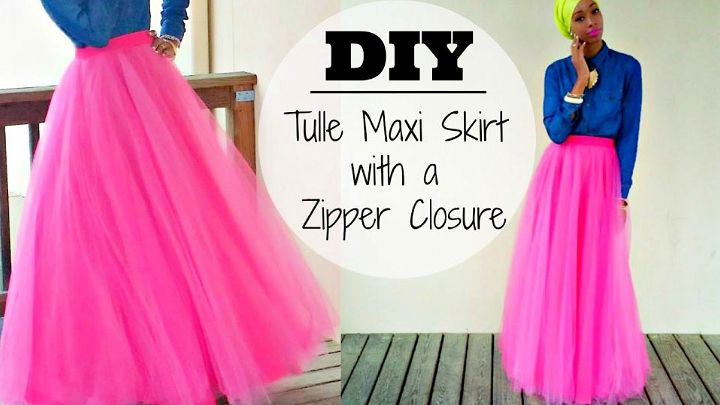 A Tulle maxi skirt is all that you need on these summer days. You can get ahold of all of the material used in the description of the video. The measurement will be taken beforehand, and then the fabric is folded over in a triangle shape. This is the starting point of actually stitching the skirt. Click on the link to see how it looks!
21. DIY High Low Maxi Circle Skirt Sewing Tutorial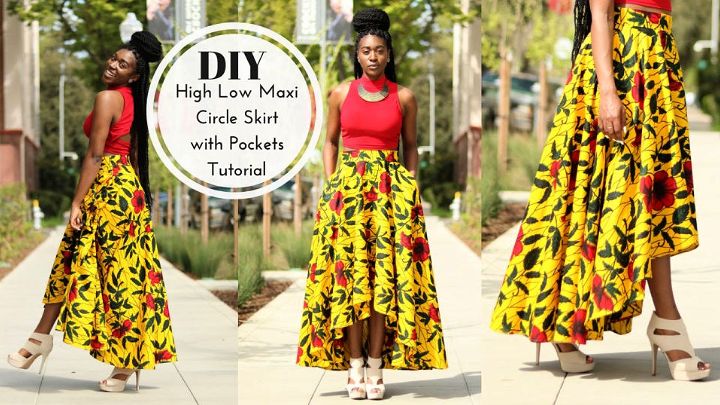 Learn to make a hi-low maxi circle skirt with this tutorial. You will need 6 yards of fabric and 1 yard of interfacing to make the skirt. Firstly, fold over the fabric to just over 1 inch the width of your fabric. Place the interlacing on top of the skirt and mark down the position where to cut it from. You can also make space for your pockets, and that's it!
22. DIY Denim Paperbag Maxi Skirt with Belt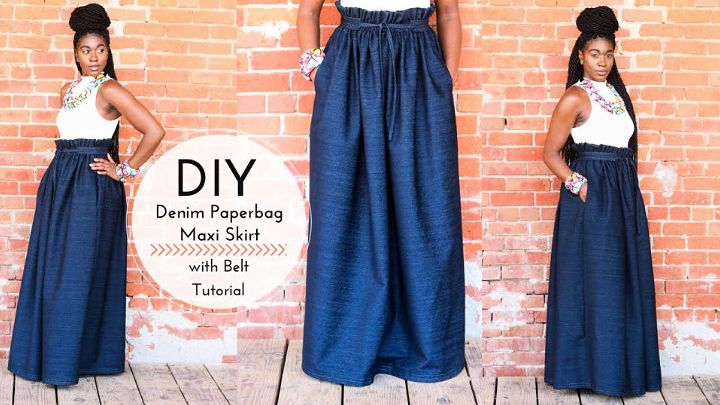 The denim paper maxi skirt looks like the perfect dinner maxi. It is fashioned with a belt for even more elegance. Get your fabric and lay it flat across the floor. You will need to cut out panels from this fabric using chalk and a ruler. With that done, you can start work on the maxi pieces and stitch them together. All done!
23. DIY Maxi Skirt with High Split Pattern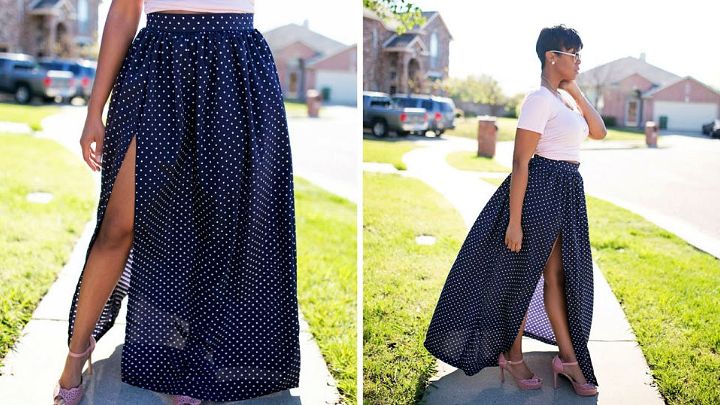 Another one of maxi skirt patterns with high splits. Use 2-3 yards of non-stitch fabric to get started with it. You'll have to take measures for the waist circumference, skirt length and front split length. Cut out back and front panels using a rotatory cutter. Similarly, you can fashion out ribbons and add them to the pieces to sew.
24. Long Maxi Wrap Skirt Pattern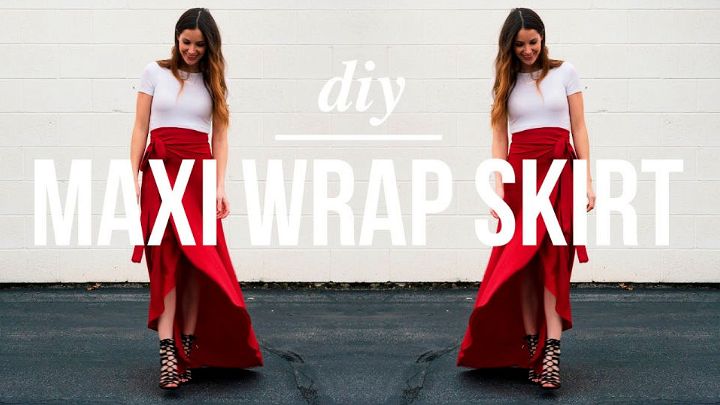 One of the most demanded maxi skirt patterns is a long maxi wrap skirt. Measure out your waist and length from hips to the feet. Sew the edges with a ¼-inch hem. Make sure they have enough material to tie a bow at one end of your hips. This is how you do it!
25. Easy How To Sew A Maxi Skirt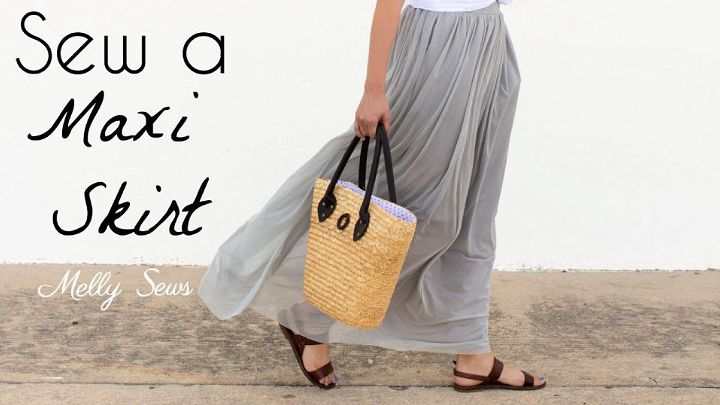 Learn to sew a maxi skirt with this cute tutorial. It uses lining fabric, outer fabric, and waistband pieces of space grey color. The trick is to sew with French seams. The elastic will give it a gathered, wavy look. Click on the link to see how these maxi skirt patterns work.
Related Free Sewing Patterns
Free Dress Patterns For Women
Looking for free dress patterns that are easy to follow? Here you will find pdf dress patterns with instructions that will help you create beautiful dresses with ease.
Bikini Sewing Patterns
Looking for a bikini sewing pattern? Look no further! We have a variety of free bikini sewing patterns to choose from, and we're sure you'll find the perfect one for you.
Free Sewing Patterns for Tops
Looking for a sewing pattern to make a stylish top? Look no further than this collection of free sewing patterns for tops! Featuring a variety of styles and designs, you're sure to find the free top pattern for your next project.
Trendy Crop Top Pattern
Learn how to sew a crop top with this trendy crop top pattern for the modern woman. This versatile style can be dressed up or down for any occasion.
Free Wrap Shirt Pattern
If you're looking for a wrap top that is easy to sew, look no further than this Wrap Top Pattern tutorial. With just a few simple steps, you can create a wrap top that is perfect for any occasion.
Free Shorts Pattern
Sewing shorts is a great way to beat the heat in summer! This free shorts sewing pattern will show you how to make simple and stylish shorts that are perfect for hot weather.
Conclusion: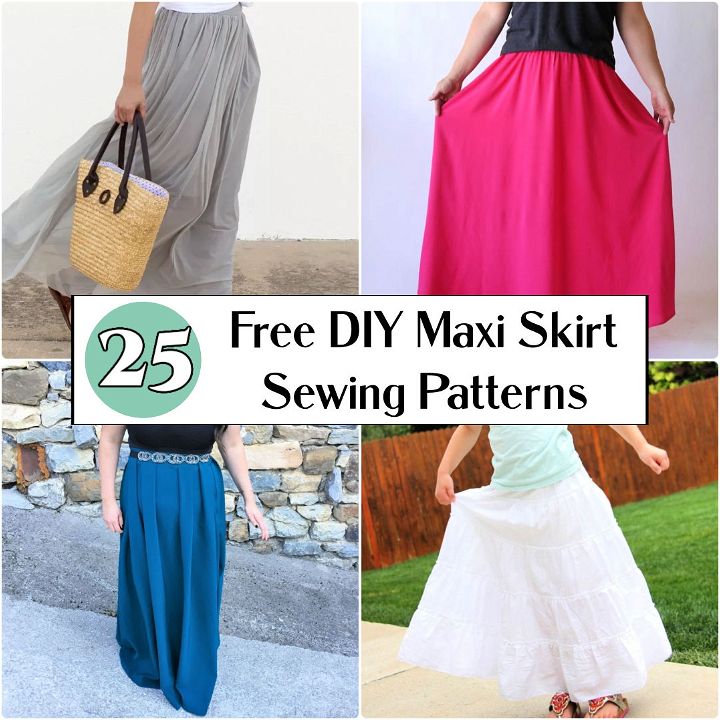 We hope that you gave these free maxi skirt patterns a try! These maxi sewing tutorials are sure to make any aspiring designer come up with loads of ideas. Even if you are just starting, these maxi skirt tutorials will be a memorable experience to try out. We bet that your next favorite maxi skirt patterns are in this tutorial. So don't waste any further time and get started; this will be a special one!